Character Dining Wasn't Open At Disney World Early In The Pandemic. Here's What The Parks Have Done To Make It Safe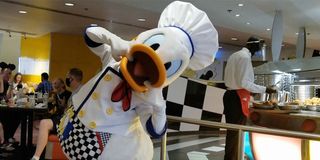 When Walt Disney World Reopened its doors mid-pandemic in July of this year, things looked very different. There were mask requirements, new guidelines and signage everywhere. Ride lines were spaced out. Temperatures were checked. But notably, some attractions were shuttered while other options, including parades and character dining, seemed like relics of the past. Luckily, Walt Disney World resorts and theme parks were merely trying to figure out the dynamics of how the parks could make character dining work in this new normal.
At Chef Mickey's and other character dining options, there were two issues at hand. First, how could Walt Disney World make character dining safe? Secondly, at the Contemporary buffet-style restaurant, how could Disney World make buffet dining safe?
How Character Dining Has Changed At Walt Disney World During The Pandemic
Chef Mickey's was actually the first place I experienced character dining as a kid and I distinctly remember joyfully getting out of my chair to hug characters, engage in close contact, and ask for autographs. Over the past 12 months, hugging strangers has no longer been an option and the new Chef Mickey's asks children and adults to remain in their seats while eating. Anyone who is up out of their seats must remain masked.
Ultimately though, this doesn't overall detract from the experience. In its place, characters are still ambling around and interacting with waves and other energetic movements. Your favorite characters are still involved in the fun and it still feels interactive--just in a slightly less up-close-and-personal way. In addition, at the end of the meal, diners also get a cute card from Mickey and friends that features signatures. It's a nice little touch at the end of the meal, particularly given the signature thing flew out the window as part of the social distancing measures.
How Buffet Dining Has Changed At Walt Disney World During The Pandemic
Here's the doozy, though. The problem with re-opening Chef Mickey's had a little to do with it being a dining experience, but I'd wager unlike full service restaurants like Be Are Guest or the Contemporary's own The Wave... of American Flavors, it had more to do with the buffet component. This is seemingly evidenced by the fact Chef Mickey's opened with a new dining format before it even added characters again. Prior to the pandemic, Chef Mickey's was known for its buffet and popular for breakfast. Currently, it's only open between 7:30 and 12:30 p.m., and it is no longer a buffet-style restaurant.
Buffets have largely gone by the wayside at heavily populated entertainment institutions. A recent visit to Universal Studios' Dockside Inn and Suites at Endless Summer Resorts mentioned that a buffet idea there had been shuttered in favor of more counter service-style options and that will likely not be changing as things got back to normal. The same is true at the Walt Disney World resorts and parks, though in practice how the food is served looks very different. Chef Mickey's has also shifted away from the traditional buffet in which you would leave your seat and fill your plate yourself. Now, a server brings an absolute smorgasbord of food to your table.
Chef Mickey's Has Shifted From A Buffet To More Of A Family-Style Adventure.
The current menu features items like Mickey-shaped pancakes, a bread service including sweet rolls and these crisp, donut-y fritters. Yogurt parfaits, fruits, and a large platter of meats including eggs, bacon, sausages and more are also placed front and center. The two major highlights for grownups, though, just may be the "Loaded" Potato-Cheese Casserole and the Banana Bread French Toast, which is more like a dessert than a breakfast item, with mascarpone cream and lots of chocolate.
All of these items are brought directly to your table along with your drink selection. Along with the family-style food, you can also order tea, coffee, etc. and a variety of specialty drinks and smoothies that do cost extra. So keep that in mind as we start talking cost for the new version of character dining.
What Is The Cost Of Chef Mickey's Family Feast?
Well, having Mickey, Minnie, Goofy and co. on hand does not come cheaply. This is certainly not a meal you would want to indulge in if the character component is not important to you. For breakfast, adults currently cost $42 dollars. Kids themselves cost $27 dollars. This is pricy, but you do get a lot of food along with the character experience during your meal. For adults, not having the hassle of getting plates for your kids or helping kids learn to get their own buffet food -- particularly if you are a parent of littles -- also makes the new Chef Mickey's experiences actually more desirable than the old way of doing things. So, if you can swing the cost, you're in for a pretty fun family meal.
Disney World has had to make a slew of changes since the pandemic first hit. Some of those changes will doubtless continue even as safety restrictions wane and the Orlando theme parks and resorts continue to re-open and expand hours and attraction offerings. We'll have to wait and see what the future holds for character dining, but in some ways the new family-style offerings at Chef Mickey's are even more fun and intimate.
Your Daily Blend of Entertainment News
Reality TV fan with a pinch of Disney fairy dust thrown in. Theme park junkie. If you've created a rom-com I've probably watched it.