Universal Studios' Dockside Inn And Suites: 5 Big Reasons To Consider Staying At The Newest Florida Resort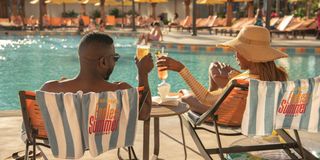 When you step into Universal's latest collaboration with Loews on the resort front, Dockside, your eyes are first drawn to an impressive driftwood installation and a room filled with ambience and light. Dockside Inn and Suites, the new addition to the Endless Summer resorts, is actually a "value" property for Universal Studios Orlando, created specifically with families in mind. But its amenities and ambiance offer far more than you might expect from a property of this type. So we checked it out and looked into the biggest reasons to consider a stay at Dockside, you know, just in case you have a big vacation planned soon.
The Rooms At Dockside Are Great For Families And Couples Alike
The Dockside is brand new. Like brand spanking new. Opening back on December 15, 2020, you would certainly not use an adjective like "tired" to describe the rooms, which are cheerful and sunny and many of which feature beautiful poolside views. Seasonal rates apply, but right now standard 2-queen bed rooms are available for around $129 a night, with rates bumping up a bit for a pool view. So, the resort offers great value, whether you are visiting with a partner or a roomful of kiddos. More on cost here (opens in new tab).
In fact, staying at The Dockside is incredibly affordable and this is true even for bigger families. While the Loews resort does offer standard rooms, the single biggest selling point for me is that the Dockside can accommodate larger families with a suite. This suite has a picnic table. It has a microwave. It has a master suite room and then a separate bedroom with two queen-size beds, sleeping six. If you have multiple kids, it's no problem. The standard rate right now is $184 a night for the two-bedroom suits, with a slight increase for a pool view, though that's subject to change.
Hot Tip: The poolside rooms are a little pricier -- $145 for a single 2-queen room and $220 for the two-room suite, but having visited the views really do give the hotel experience an edge.
The Food: Chicken And Waffles And So Much More
OK, close your eyes. Take a second. When you think of a family-friendly resort, what type of food are you thinking of? Pizza? Pasta maybe, with a few chicken nuggets strewn in? That's your typical fare at these joints, which often focus on counter service and more, but Dockside has taken that concept and amped it up to interest all palates, adding specialty toppings to its burgers and pizzas and some surprising additional items as well.
Led by Executive chef Khalid Benghallem, the concept is both flexible and a little adventurous. Sure, if you have (or are) a picky eater, there are items like grilled cheese and chicken fingers on the menu, or basic burgers and pizza. But the signature dish at Pier 8 Market is the chicken and waffles, which are dandied up for breakfast and served family style later in the day. You can also try a turkey burger with cranberry mayo or order a Cuban sandwich if you are feeling a little more outside-the-box. Right now the resort is also celebrating Mardi Gras with some specialty dishes including beignets (seriously go for those) and a shrimp and grits dish that's not fussy but is extremely fun to dive into thanks to some candied bacon.
Hot Tip: If you are an Orlando or Florida native, you may recognize some of the drink names that can be found at the pool bar. The Oasis Beach Bar has drinks like the Mach 5 and The Surge, and if those sound familiar, it's because they are a nod to the Wet 'n Wild park that used to be on the property.
The Amenities - Gym, Pool(s), Buses, And Early Access To The Parks
Dockside Inn and Suites is one of a fair number of Universal Studios property resorts that do have gyms as an amenity. The room is large-- much larger than many of the hotel gyms available at nicer hotels. If you like to work out in the mornings or evenings, this is an atypical amenity and a welcome one at this price point. If relaxation is more your thing, a bar is open in the evenings and located off of the lobby, while a Starbucks is also available front and center as you are heading out for the morning.
Two pools are located at the hotel, which means a fair number of rooms on property also offer poolside views, if that's your jam. That's just the start of the amenities, which extend to the park itself. Those who stay do gain access to Universal Studios and Islands of Adventure an hour early, which offers a great value in terms of free time. Buses are located right outside of the hotel and accessing the parks was quick and easy. The wait for bus loading was minimal and socially distanced.
Hot Tip: Getting into the parks early is a must if you are able to roll out of bed and get moving, but please note you have to actually purchase tickets to the parks in order to use this amenity.
The Safety - Social Distancing And Safety Measures In The Parks And At The Resort
The last year has been trying for companies and people as we've all worked to return to some version of normal. We'd be remiss if we didn't mention the safety measures in place currently at the resort, which include some common-sense measures like masks, plastic screens at the front desk, social distancing in lines, and a restructuring of buffett-style food. Other measures have been taken, including notices about elevator use and shifting chairs and tables at the pool to maintain separate spaces for families.
In the parks, one thing Universal Studios is doing particularly well is employing a person to dole out hand sanitizer before you get on every ride. When I say every ride I do mean every ride--sanitizer is not rare or difficult to find at the Orlando parks. Lines are also socially distanced in a similar manner to other theme parks and the parks were not overcrowded at the time of this writing.
Hot Tip: The Wizarding World of Harry Potter is obviously still a big attraction and more popular than some of the other areas in the parks. If maintaining ample space from other parties is a concern for your party, plan to make use of that extra hour and get through some of the more crowded areas on the early side.
Universal's Dockside Inn And Suites Has A Sweet Theme
The Dockside is family-friendly, but it isn't hitting anyone over the head with Harry Potter characters on the walls or other cartoon-y premises. Instead, the whole resort goes for a beach vibe, with bright colors and art installations. The rooms themselves are vivid and youthful. They even have multi-colored picnic tables (if you book a suite), which are both practical and adorable. The pools are clearly focal points to play into the theme, as there are two on property.
Basically, the resort isn't hitting anyone over the head with its theming, though it is charming and it's a nice compliment to the other Endless Summer Resort, Surfside Inn and Suites, which is located right across the street (though is currently shuttered as part of pandemic restructuring). That resort, when it does reopen, is also very new, having kicked off its own beach theme in 2019 with rooms that sleep up to six.
Hot Tip: For a particularly cutesy example of the theming, stop at the bar off of the main lobby at Dockside. It's cheery and yellow and is actually themed after a VW van parked beachside. Check out the lighting in particular, which confirms the theme.
Universal Studios Orlando offers a lot of different resorts at different price points, and while Dockside is the newest, there are plenty more that the Orlando campus of the theme parks offers. As more and more stuff opens and is heading to the Orlando parks, we'll keep you posted, but you can take a look at the full list of places to stay with Universal's guide.
Reality TV fan with a pinch of Disney fairy dust thrown in. Theme park junkie. If you've created a rom-com I've probably watched it.