3 Big Changes Universal Studios Orlando Plans On Keeping Even After The Pandemic Ends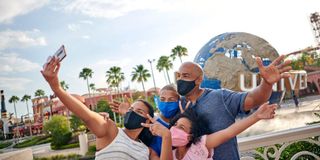 (Image credit: Universal Studios Orlando)
Theme parks have been a continual source of interest ever since some of them have reopened in varying parts of the U.S. and elsewhere around the world. There's a keen interest in what Orlando in particular is doing, as big theme parks like Universal Studios are continually adjusting to the new normal. Big changes have been made to the Universal Studios Orlando properties in both the theme parks and resorts, and according to at least one expert, some of these changes are here to stay.
Recently CinemaBlend got the chance to check out Dockside Inn and Suites, the newest resort to open on the Orlando theme park campus -- a resort that has only actually ever been open during the pandemic. There, we spoke with Phil Klinkenberg, Director of F&B at Universal's Endless Summer Resort, about some of the changes the resort has made to usual service and what guests can expect will likely be sticking around over the long haul.
The Deep Cleaning Is Here To Stay Universal Studios Parks And Resorts
Among social distancing and safety protocols, one other major thing that has changed with a lot of businesses is a much more rigorous routine when it comes to deep cleaning. Phil Klinkenberg touched on what Dockside and other Loews-partnered resorts are doing, also noting the cleaning is a measure that will likely stick around at the same levels moving forward, as it "makes really good sense."
Not only have the cleaning protocols reinvented themselves, but also the way that food is served, and it seems like everyone working toward the future is pretty happy with how the cleaning component is working out. This brings us to one of the many casualties of the pandemic: the old school buffet.
Will Buffets Return To Universal Studios Parks And Resorts?
If you asked the Universal Director if buffets will still be a facet of the Orlando theme park experience, he'll tell you "I think so," though Phil Klinkenberg was also quick to point out "in moderate fashion." The idea would be that buffet-style meals would be attended so that people could still get as much or as little of the items they wanted but some of the unknowns of letting guests get up close and personal with food items would be eliminated. The Dockside Food and Beverage Director elaborated that what will be most likely to happen is this idea of "attended" buffets.
Currently, Universal is just passing on the buffet format at the Dockside, and has instead switched to more of a quick service format for its guests -- still with its signature chicken and waffles of course -- which is easy, painless, and a popular style for families anyway. They aren't the only business to swap out a buffet format, as we've seen other places that used to do buffet-style meals now serving family style and so on and so forth. So the Universal-based resort is not the only place that is tweaking its plans on the buffet front in at least some way or fashion and only time will tell what strategies will come out on top in future years of dining at the parks and resorts.
The Food At Universal Studios Florida, Islands Of Adventure And Resorts
One thing Phil Klinkenberg did additionally comment on is simply that a lot of things even major resorts like Universal Studios have changed and for the better, something that has only really pushed forward in the era of Covid-19. In the future, lots of the changes that have already been made on the food service front, including how items are packaged and picked up by people visiting the resorts and parks to maintain sanitation and safety, will continue. Yes, even when it's safe to go mask-free again.
Change is inevitable, but sometimes events push change in a new direction much more swiftly and decisively than may have happened otherwise. In the case of changes to food preparation and presentation, Universal has already taken new courses of action and it looks like many of those changes will continue into 2022 and beyond. The theme parks may not always be transparent about what construction projects it has going on, but when it comes to safety measure, Universal is being crystal clear here.
Your Daily Blend of Entertainment News
Reality TV fan with a pinch of Disney fairy dust thrown in. Theme park junkie. If you've created a rom-com I've probably watched it.