Idris Elba's Concrete Cowboy Reviews Have Dropped, Here's What Critics Are Saying About The Netflix Movie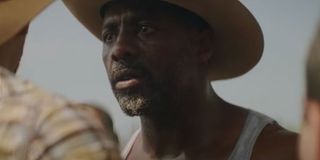 The never-aging Idris Elba and Stranger Things' Caleb McLaughlin have partnered up for an urban western (as in, howdy, partner). Based off of the real-life Fletcher Street Urban Riding Club, Concrete Cowboy tells the story of Cole (McLaughlin), who moves in with his estranged father Harp (Elba) in north Philadelphia and discovers the world of horseback riding. Jharrel Jerome, Byron Bowers, and Lorraine Toussaint also star, and Ricky Staub makes his feature film directorial debut with the drama.
Concrete Cowboy doesn't debut on Netflix until this Friday, April 2, but critics have started releasing their reviews.
Our own Eric Eisenberg saw the western drama for the CinemaBlend team, and rated it a 3.5 out of 5 stars. He points out that the movie does include familiar plot points, but effectively avoids falling into a trap of cliches and provides real depth. Some of that depth stems from the authenticity of the film (real Fletcher Street Riding Club members are included in the cast). Eisenberg said:
Vanity Fair's Katey Rich also acknowledged the film's similarities to "familiar beats of the horse tale," but she appreciated that the film pays tribute to the very real Black horse culture in North Philadelphia, the Fletcher Street Riding Club, which has been historically overlooked. Rich said:
Mike Ryan from Uproxx echoed the previous critics' thoughts about how Concrete Cowboy "doesn't offer a ton of surprises," but he found the movie to be so much more than just the familiar "estranged father reconnecting with his son" plot. The western drama brings focus to the very real history of Black cowboys and how Hollywood erased their legacy, and that legacy is still very much alive today. Ryan said:
Katie Rife from AV Club complimented Minka Farthing-Kohl's cinematography, calling it "magic." She acknowledged the cliché coming-of-age storyline, but also praised Staub for paying tribute to the Fletcher Street Riders and bringing this storied subculture into the mainstream. Rife argues that what helps Concrete Cowboy avoid clichés is the intriguing characters and "its earnest belief in the steadying power of the bond between humans and animals, as well as the value of legacy and community in giving our lives meaning." She continued, saying:
Pajiba's Kristy Puchko thinks the performances in the film are "excellent," but she criticizes the script. She argues that we don't get enough back story of Cole and Harp, noting that "these two are more caricatures than people," and when the movie finally tries to ignite their story it's too late. She also argues that the film could have utilized the real-life urban cowboys more, writing,
So saddle up, partner, because it would seem from these reviews that we're going to see some badass cowboys in this movie. You can stream it on Netflix this Friday, April 2.
While you wait to see Concrete Cowboy, you can check more upcoming Idris Elba movies and plan your next trip to the theaters with our 2021 movie release guide.
Your Daily Blend of Entertainment News