Idris Elba's Concrete Cowboy: Release Date, Cast, And 5 Other Things We Know About The Netflix Movie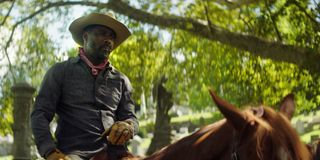 We have seen Idris Elba run the streets of Baltimore on The Wire and keep the alleys and thoroughfares of London free of crime on Luther, but we'll soon see the Golden Globe winner take on the urban sprawl of Philadelphia in the upcoming Netflix film Concrete Cowboy. In the coming-of-age drama about an estranged father and son bonding over urban horseback riding in one of the country's most iconic cities, audiences will be introduced to a way of life not many know of, but a way that will surely inspire us all.
Below we will break down everything we know about Concrete Cowboy including its release date, cast, the story that inspired its creation, and why one of the film's producers calls it "light in the midst of darkness." Here's everything we know about the upcoming Idris Elba urban cowboy movie.
Concrete Cowboy Comes Out On Netflix April 2
Those who really want to check out Idris Elba and Stranger Things' Caleb McLaughlin portray a father and son duo who find a common connection with the urban cowboy movement won't have to wait too much longer, as Concrete Cowboy is slated to land on Netflix, April 2. Elba himself broke the news in a March 8 tweet displaying the Concrete Cowboy poster along with the film's tagline: "You are who you ride with."
Add Concrete Cowboy to your Netflix queue. (opens in new tab)
Besides Idris Elba And Caleb McLaughlin, The Concrete Cowboy Cast Is Filled With Top-Notch Talent
The Concrete Cowboy cast is anchored by Idris Elba and Caleb McLaughlin, but the rest of the supporting cast in the upcoming Netflix picture is nothing short of amazing, with some of the most promising actors and established stars appearing in the movie.
Besides the two leads, you can expect to see When They See Us' Jharrel Jerome, who took home a Critics' Choice, NACCP Image, and Primetime Emmy Award for his portrayal of Korey Wise in the the 2019 Netflix limited series about the case of the Central Park Five. Lorraine Toussaint, who some may remember as Yvonne "Vee" Parker on Orange is the New Black, Clifford "Method Man" Smith, who appeared on The Wire alongside Idris Elba, and Bryon Bowers are just a few of the other members of the well-rounded Concrete Cowboy cast.
The Movie Centers On A Troubled Teen As He Spends A Summer With His Estranged Father, An Urban Cowboy
Before he returns to Hawkins for Stranger Things Season 4, Caleb McLaughlin shows up in Concrete Cowboy as Cole, a troubled 15-year-old boy from Detroit who is sent by his mother to Philadelphia one summer to be taken care of by his estranged father, Harp (Idris Elba), who happens to be prominent figure in the city's historic urban cowboy movement. Caught between a life of crime and his father's urban cowboy subculture, Cole is forced to decide which path he will take in the Netflix film.
Concrete Cowboy Is Based On The YA Novel Ghetto Cowboy And North Philly's Fletcher Street Urban Riding Club
Concrete Cowboy is based on Gregory Neri's 2009 Young Adult novel Ghetto Cowboy, which follows Cole as he begins to the understand what it means to be an urban cowboy while also learning what it takes to be a decent person. Neri's novel was inspired by North Philly's Fletcher Street Urban Riding Club, a 501(c)(3) non-profit organization that devotes itself to inner-city horsemanship in a section of the City of Brotherly Love.
The Fletcher Street Urban Riding Club has been around in some shape or form for well over 100 years now, but became an official entity in 2004 when Ellis Ferrell started the current version of the organization to work with inner-city youth and teach them the ways of the cowboy to make a better life for themselves.
Director Ricky Staub First Became Involved After Seeing A Man Riding A Horse Through Philadelphia
Ricky Staub, who made his directorial debut with Concrete Cowboy, became involved with the project years ago as he was working in his Philadelphia office, when somebody rode past his window in a horse-drawn buggy fixed with speakers, as he told Philadelphia Magazine back in 2018:
The Concrete Cowboy writer/director had a second brush with the concept sometime later when he was speaking with a group coming home from prison, and he met a man who said his first goal after getting released was to buy a horse. One thing led to another, and Ricky Staub ended up going to the stables, riding horses with the urban cowboys, and even attending their annual barbecue.
Concrete Cowboy Premiered At The Toronto International Film Festival In 2020
Concrete Cowboy doesn't arrive on Netflix until April 2, but the film premiered at the Toronto International Film Festival in September 2020. At the time, Netflix had yet to pick up distribution rights for the picture, but would do so following the festival, where it received favorable reviews from members of the press in the audience. In their review, The Hollywood Reporter called attention to the "vibrant spirit" of the drama thanks in part to its outstanding cast and inspirational story about the Black community in Philadelphia.
Producer Lee Daniels Called Concrete Cowboy 'Light In The Midst Of Darkness'
Ahead of the official Concrete Cowboy premiere at the Toronto International Film Festival in 2020, a special screening was held for a 50-car audience in a downtown Los Angeles parking lot. Prior to that, producer Lee Daniels spoke (via Variety) about the movie and what it meant to those involved with it, as well as the audience, stating:
Lee Daniels, who happens to be a native of Philadelphia, was drawn to Concrete Cowboy for the film's story of a father and son finding a common bond, as well as fellow Philadelphian Ricky Staub's vision for the project.
Concrete Cowboy is set to arrive on Netflix, April 2. If you want to know what else is coming to Netflix this year, check out CinemaBlend's 2021 Netflix Movie Guide.
Philip grew up in Louisiana (not New Orleans) before moving to St. Louis after graduating from Louisiana State University-Shreveport. When he's not writing about movies or television, Philip can be found being chased by his three kids, telling his dogs to stop yelling at the mailman, or yelling about professional wrestling to his wife. If the stars properly align, he will talk about For Love Of The Game being the best baseball movie of all time.
Your Daily Blend of Entertainment News
Thank you for signing up to CinemaBlend. You will receive a verification email shortly.
There was a problem. Please refresh the page and try again.