Toy Story At Disney World: What To Do At WDW For Fans Of Woody And Buzz Lightyear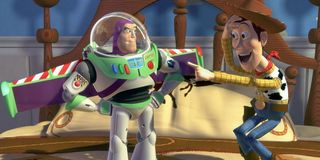 Since Pixar's very first movie, Toy Story has been the studio's most popular franchise. With four films now to its name Toy Story has now made fans in multiple generations, and so with that sort of legacy it's little surprise that of all the Pixar films that have a presence in the Disney Parks, and many of them are represented, none have quite the footprint of Woody and Buzz Lightyear. Not only does Toy Story have its own land, but it's one of the few Disney properties to be represented by attractions in multiple Walt Disney World parks. There are so many Toy Story things to do at Walt Disney World.
Some people are all about Mickey and Minnie at Disney World while some might be incredibly passionate about Frozen at Disney World. If you're a Toy Story fan then you're going to want to experience all that Walt Disney World has to offer. The good news is that, while there is a lot of Toy Story fun to be had, it's limited to just a few places in the larger resort. You won't find anything Toy Story-themed at Disney's Animal Kingdom or Epcot, so you can focus your energies elsewhere. Here's a rundown of all things Toy Story that you can find at Walt Disney World today.
Note: Due to the pandemic and the health and safety restrictions in place at Walt Disney World, not all of these items are available at time of writing. However, the parks list them as being temporarily unavailable, which means they should all be back once the resort is back up and running at full capacity.
Toy Story At Disney's Hollywood Studios
If you want to experience Toy Story up close and personal, then there is one place you absolutely must go, and that's Disney Hollywood Studios. Here you'll find an entire land dedicated to the franchise. With Toy Story Land you get everything you could possibly want from Toy Story, fun attractions, cool character moments, and even food that feels like it belongs in Toy Story.
Toy Story Land
From the entrance of Disney's Hollywood Studios you'll find Toy Story Land in the back of the park, right next to the theme park's other new land, Star Wars: Galaxy's Edge. It's designed to make you feel like you are a toy yourself, with everything oversized so you feel tiny. The story of the land itself is that you are in Andy's backyard and he's built everything that you see around you as part of his imaginative play with his toys.
Toy Story Mania
This ride actually predates Toy Story Land, but it was given a significant overhaul as part of the new land. It combines carnival games, a ride, and 3D effects, to create something quite special. Ride vehicles travel to various playsets where guests can pull the string on a popgun mounted to their vehicle. This shoots off a variety of different projectiles, like rings for a ring toss, darts for a balloon popping game, or baseballs to throw and plates in order to shatter them. Targets earn you points and everybody in the same ride vehicle competes with each other. Various Toy Story characters appear in each playset and cheer you on.
Slinky Dog Dash
One of two roller coasters found at DIsney's Hollywood Studios, what sets Slinky Dog Dash apart from many is that it's a coaster that is suitable for some of the parks smaller guests. It's got a height requirement of only 38 inches, but it doesn't skimp on the thrills. It may be the perfect coaster because older riders will still enjoy it but younger riders can give roller coasters a try and see if they like them, when they can't ride many of the other more thrilling rides in the park.
Alien Swirling Saucers
One ride that even smaller guests can experience is Alien Swirling Saucers. This ride lets guests spin around in vehicles being pulled by the green aliens from Toy Story, while "the claw" hangs ominously overhead. The ride structure is identical to Mater's Junkyard Jamboree found in Cars Land at Disney California Adventure, if you're familiar with that one. It's actually really fun and while it may be smallest attraction in the land, it's worth checking out.
Woody's Lunch Box
The major food location (right now) in Toy Story Land is Woody's Lunch Box, a quick service spot that provides just the sort of food you'd expect a kid playing in the backyard would eat for lunch. It's got grilled cheese sandwiches, tomato soup, snack cheese, and tasty tarts for dessert. Pretty simple, but tasty, comfort food.
The Toy Story Store
Once you've done everything there is to do in Toy Story Land, you may want to bring home proof of your time spent there in the form of merchandise. The Toy Story Store is attached to Toy Story Mania, and you can exit through the gift shop when you leave that ride or check out the shop on its own just as well.
Toy Story Characters At Disney's Hollywood Studios
Seeing and hearing Toy Story characters in the various attractions are all well and good, but it just wouldn't be the same if you couldn't actually meet your favorite Toy Story characters and give them a hug and get a picture. Meet and Greet opportunities are usually available inside Toy Story Land to meet Woody, Buzz, Bo Peep, and Jessie as full costumed characters.
In addition, the Green Army Men are also a regular presence inside the land. You'll find them performing music as the Green Army Drum Corps, as well as getting interactive by playing games with some of the younger guests.
(These activities are currently not available due to pandemic restrictions but should return once they are lifted.)
Toy Story At Magic Kingdom
While there's certainly a lot of Toy Story fun to be had at Disney's Hollywood Studios, that's far from the only place you can enjoy Toy Story and its characters. Magic Kingdom is also home to another Toy Story inspired attraction, which can be found in the park's Tomorrowland.
Buzz Lightyear's Space Ranger Spin
Before Toy Story Land, Buzz Lightyear's Space Ranger Spin was the place to compete against your friends and try to make them look bad. The ride sees guests shoot at targets in much the same way as that ride, but rather than using 3D glasses and screens, Space Ranger Spin uses physical props with targets and guests take aim with toy blasters firing IR beams. Different targets are worth different amounts of points, and you can compete with one other person to see who can score better.
Toy Story Characters at Magic Kingdom
Buzz Lightyear
Along with his attraction, Buzz Lightyear can sometimes be found in Tomorrowland taking pictures with guests, though he's the only Toy Story Character you'll still sometimes find here, as all the others have moved over to Toy Story Land (Woody and Jessie would sometimes appear in Frontierland before the new land was built) (This event is temporarily unavailable.)
Happily Ever After
Magic Kingdom's Happily Ever After fireworks show is so much more than just fireworks. Yes the pyrotechnics are impressive but the projection mapping on Cinderella's Castle and the music combine with those fireworks to make something special. Basically every Disney character you love appears at some point, but that includes Buzz, Woody, and the gang and a bit of the classic "You've Got A Friend In Me." (This event is temporarily unavailable.)
Move It! Shake It! Dance and Play It! Street Party
This daytime parade down Main Street USA includes all sorts of characters encouraging guests to dance along with them. Among them you'll usually find Woody and Jessie. (This event is temporarily unavailable.)
Disney's All-Star Movies Resort
If you want to take your Walt Disney World vacation and your love of all things Toy Story to yet another level, then you may want to consider staying at the All-Star Movies Resort. You've got to stay somewhere, right? This hotel has an entire section dedicated to Toy Story including massive statues of Buzz, Woody, and other Toy Story characters outside, as well as references to those characters, and others, inside the rooms. All-Star Movies is one of Walt Disney World's less expensive hotels so getting the Toy Story experience isn't even that expensive. Although you can't usually book a room specific to the Toy Story section, you can make the request, and either way you'll be able to wander over to check out the Toy Story theming.
The Future Of Toy Story At Walt Disney World
Roundup Rodeo BBQ
Considering just how popular Toy Story still is, even after four movies, this list certainly isn't the end of the Toy Story experiences that guests will be able to have at Walt Disney World. While still under construction and in the very early stages, the Roundup Rodeo BBQ will be a new table service restaurant located in Disney Hollywood Studios' Toy Story Land.
If you're looking to have not only a Walt Disney World vacation, but a Toy Story vacation, there is so much to enjoy it can very easily take an entire trip to experience it all. And keep your eyes open because Walt Disney World is adding new experiences all the time, so there may be even more Toy Story to experience when you next find yourself at Walt Disney World.
Your Daily Blend of Entertainment News
Content Producer/Theme Park Beat
CinemaBlend's resident theme park junkie and amateur Disney historian. Armchair Imagineer. Epcot Stan. Future Club 33 Member.
Your Daily Blend of Entertainment News
Thank you for signing up to CinemaBlend. You will receive a verification email shortly.
There was a problem. Please refresh the page and try again.