Things Like This Director On Debuting A Gay Love Story That's Not About Coming Out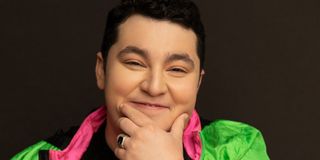 (Image credit: Bonnie Nichoalds)
As time progresses, more and more underrepresented communities, including the LGBTQ+ community, are getting to tell their stories in the entertainment space. Actor Max Talisman is a champion for diversity and representation, and his upcoming film is a game-changer. Talisman makes his screenwriting and directorial debut with Things Like This, a gay love story that's not about coming out.
Things Like This begins production this fall, and I got to sit down with Max Talisman who serves as the film's writer, director, and star for an interview with CinemaBlend. Wearing multiple hats allows Talisman a great deal of creative control, which enables him to tell this story in the best possible way. Here's what he shared about the story of Things Like This:
As a hopeless romantic, I'm already all in on any love story, but as an LGBTQ+ ally, I feel both the importance and excitement in Max Talisman's words to get this film out into the world. He mentioned Love, Simon and Happiest Season as examples of positive representation of gay characters and that he identified with parts of each of those stories, but Things Like This will take place after the coming out experience, which is just as important to highlight.
Max Talisman also spoke of the TV series Happy Endings, noting it as "one of the best representations of a gay person" because the friends of the character on the show don't care that he's gay. At the end of the day, that's what most marginalized communities are looking for: belonging. To not be classified as "other" but to exist as part of the group, and that is exactly what the characters in Talisman's Things Like This will accomplish. Here is what he wants people to walk away with after viewing his film:
I absolutely cannot wait to see Things Like This. It's currently in development and goes into production this fall, so keep checking back at CinemaBlend for updates. While you wait, check out these 2021 love stories and it's never too early to plan your Pride month movie marathon.
Photo credit: Bonnie Nichoalds
Your Daily Blend of Entertainment News
Obsessed with Hamilton and most things Disney. Gets too attached to TV show characters. Loves a good thriller, but will only tolerate so much blood.
Your Daily Blend of Entertainment News
Thank you for signing up to CinemaBlend. You will receive a verification email shortly.
There was a problem. Please refresh the page and try again.