What SNL Vet Nasim Pedrad Drew From Her Personal Life To Develop Chad For TBS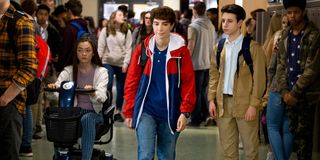 Nasim Pedrad has created, written and executive produced the new TBS sitcom, Chad. The series follows Chad, a 14-year-old boy struggling to fit in at school and figure out his cultural identity. The SNL vet stars as the titular character, offering a very unique perspective on adolescence. Pedrad recently shared about drawing inspiration from her own life while writing the show.
High school is hard. We've all seen coming of age stories and film and television focused on teens struggling with growing pains, but Chad is unique in that the lead is a teen boy played by a grown woman. With a concept like this, I was curious to learn what sparked the idea when I sat down with Nasim Pedrad for an interview with CinemaBlend. Here's what she said about what inspired the show's story:
The premise is strange at first glance and does require some suspension of disbelief for the audience to get on board. Viewers should go into this series understanding that while they see Nasim Pedrad dressed as a young boy, all the other characters see is the young boy (think She's the Man before Amanda Bynes' character Viola's identity is revealed, but there is no identity to reveal here because it's actually a boy and not a girl dressed as one). From there, it's easy to laugh along with the awkward situations Chad gets himself into. Check out the clip below to see what I'm talking about.
If you love awkward humor, Chad is the show for you because there is so much more where this clip came from. It's an embellished view of the discomforts adolescents face when trying to fit in, but it's quite an interesting journey that Chad takes throughout the series.
The focus of the show extends far beyond Chad's attempts of fitting in at school. It features his life at home and relationships with his mother, younger sister, and uncle, as well as interactions with friends of the family and Chad's best friend who helps him navigate through. All of these characters were inspired in part by someone Nasim Pedrad knows. In her own words:
So even when Chad's antics are a bit far-fetched (this is a sitcom, after all), everything is rooted in real people and experiences that come together for something really special. Chad premieres April 6 on TBS.
Your Daily Blend of Entertainment News
Obsessed with Hamilton and most things Disney. Gets too attached to TV show characters. Loves a good thriller, but will only tolerate so much blood.
Your Daily Blend of Entertainment News
Thank you for signing up to CinemaBlend. You will receive a verification email shortly.
There was a problem. Please refresh the page and try again.