Alison Brie Defends Promising Young Woman's Carey Mulligan After She Says Critic Deemed Her Not 'Hot' Enough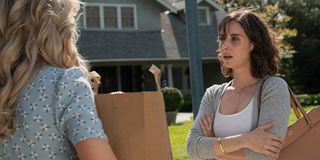 Emerald Fennell's Promising Young Woman has been snatching up headlines, and awards, left and right since first releasing in theaters last December. However, a review that was published long before the theatrical release has kicked up quite a stir. After Carey Mulligan, who plays the titular Cassie Thomas, said that the review in question suggested she wasn't 'hot' enough for the role, there has been a fair bit of back and forth between Mulligan, the reviewer and the National Society of Film Critics. Alison Brie, who co-stars alongside Mulligan in Promising Young Woman, recently came out to defend the actress in regards to the whole situation.
In the interview Alison Brie said that she admired Carey Mulligan for calling out the review and supported the Oscar-nominated actress's stance. In her own words:
Brie shared her thoughts on the controversy in an interview with Insider. Her comments come after a back and forth that all started when Carey Mulligan took issue with a review posted shortly after Promising Young Woman premiered at Sundance in January of 2020. Here's how it all went down: In an interview with The New York Times, she called out the review in question:
Mulligan's response was in regard to a section of the review that suggested one could see Margot Robbie, who was a producer on Promising Young Woman, in the role of Cassie Thomas instead. Variety, who published the piece, then decided to pin an apology atop the review after Mulligan's statement:
Shortly after the editors note was published, Mulligan addressed the apology:
However, Dennis Harvey, who penned the review, issued a statement of his own through The Guardian. In the critic's response, he noted that Mulligan had misinterpreted what he wrote:
Not long after, the National Society of Film Critics, who Harvey is a member of, issued a statement of its own on Twitter, condemning the publisher for taking a stance and not supporting the critic:
By now, you can probably gather that the whole situation has spiraled into a full-blown drama. So, it's not surprising to see Alison Brie sharing her thoughts on the dispute. It looks like the film has become controversial both on screen and off by taking on such difficult subject matter in addition to the review controversy.
Alison Brie's comments come after an impressive awards season for Promising Young Woman. The debut film from Emerald Fennell has earned a number of nominations, including four at this year's Academy Awards. Carey Mulligan even earned a coveted Best Actress nomination for her performance.
While we won't know if Mulligan's performance will earn her an Oscar, I wouldn't be surprised if we saw more comments on this situation as we get closer to this year's ceremony, so be sure to keep your eyes peeled. Those who haven't had a chance to check out Promising Young Woman yet can now check it out on Amazon Prime, where it's available for streaming right now.
Your Daily Blend of Entertainment News
Into tracksuits by Paulie Walnuts, the Criterion Channel and Robert Eggers.