The Top 10 Movies Of 2020, According To CinemaBlend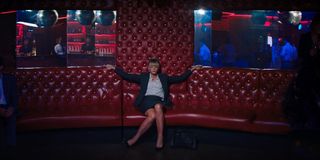 The film world experienced a terrific number of changes in 2020, but one thing that most definitely did not change for us here at CinemaBlend is our love of movies. It was certainly a strange year for the cinematic experience, as pandemic-related theater closures had us watching in our living rooms instead of on the big screen, but that didn't really slow us down in the slightest. Collectively, we watched 271 new releases that came out in the last 12 months, and while they certainly weren't all winners, there are some exceptional titles that deserve special recognition.
It's become an annual tradition for the CinemaBlend staff to keep track of our watching habits on a company screening log (going back to 2015), and at the end of each year we like to crunch the numbers to determine the site favorites. All movies were given ratings between one (the worst) and five (the best) in half-point increments, and in order to qualify each title had to be seen by at least four team members. Tiebreakers in our ranking included the total number of perfect scores given, and, secondly, the number of viewers. Let's dig in!
#10. The Trial Of The Chicago 7
Average Score: 4.0526/5
Whether it's because of films like A Few Good Men and The Social Network, or shows like The West Wing and The Newsroom, Aaron Sorkin is a popular filmmaker among the CinemaBlend staff, and this year that's been reflected in our reception of The Trial Of The Chicago 7. Though it's a period project that's been in a decade in the making, the movie very much clicked with what was going on in our world in 2020, and its true story provided an excellent foundation for classic Sorkin drama and an amazing collection of performances by the awesome ensemble cast.
#9. One Night In Miami
Average Score: 4.1/5
Regina King has been on an incredible roll in the last few couple years, following up her Oscar-winning work in If Beale Street Could Talk with the awe-inspiring Watchmen on HBO, and applause is only growing louder now that she's followed up those projects with her directorial debut. An awesome adaptation of the play of the same name by Kemp Powers, One Night In Miami is a powerhouse drama following a fictional story of four real legends, and it packs a punch. It's a demanding task to have four actors fill the shoes of Muhammad Ali, Malcolm X, Sam Cooke, and Jim Brown, but Eli Goree, Kingsley Ben-Adir, Leslie Odom Jr., and Aldis Hodge do brilliant work disappearing into their respective roles, and King's compelling direction keeps you on the edge of your set throughout the contained story.
#8. Never Rarely Sometimes Always
Average Score: 4.1/5
Eliza Hittman's Never Rarely Sometimes Always is as high-concept as movies come, but the fact that it examines one of the most controversial subjects in the world has it operating in a whole different stratosphere, and it's remarkable. It centers on a teenager's struggle with an unwanted pregnancy, forcing her to cross state lines with her cousin so that she can get an abortion that doesn't require parental consent, and it's an eye-opening, powerful piece of work. And while the whole film is incredible, the scene that inspires its title deserves to be singled out as one of the most powerful cinematic moments of the year.
#7. The Social Dilemma
Average Score: 4.1111/5
There were a lot of strong candidates to be considered the best horror movies of 2020 (scroll down to see what would be identified as our more traditional choice), but there is a strong argument to be made for Jeff Orlowski's Netflix documentary The Social Dilemma. The film provides a deeper understanding of one of the modern world's most influential inventions, and with commentary from interviewees that helped found the social media era it presents a stark reality that is sincerely scary. It's as compelling as it is informative, and may end up forcing you to take a step back and look at your own digital addictions.
#6. Sound Of Metal
Average Score: 4.2273/5
The drama in Darius Marder's Sound Of Metal is fairly obvious once you learn about its story – following a punk metal drummer who finds himself going deaf – but it's the remarkable craftsmanship behind it that made the movie a CinemaBlend favorite in 2020. It's compassionate and beautiful in its representation of the hearing impaired community, with a stunning performance by supporting star Paul Raci, and an awesome character study anchored by the fantastic Riz Ahmed. It's also its own kind of special sensory experience, and we ache with hope that we will someday all get to watch it on the big screen.
#5. Host
Average Score: 4.25/5
In the last few years, one of the most interesting stylistic subgenres to emerge has been what can be called "on screen" films, which is to say stories that play out entirely across the screens of laptops, smart phones, etc. Open Windows, the Unfriended movies, and Searching have each progressed the idea in their own ways, but Rob Savage's Host is the best we've seen yet, and another perfect zeitgeist 2020 title given the use of a Zoom call during the on-going pandemic. Short and sweet (it's only 56 minutes long), it was one of the scariest new releases of the year that puts a great twist on the cinematic séance, and one of its best surprises.
#4. Mank
Average Score: 4.25/5
If you love movies, it's terrifically hard not to love David Fincher's Mank, and the fact that the CinemaBlend is stacked with movie-lovers should do a pretty good job explaining why it hit number four on our Top 10. It's not only a tremendous homage both in style and structure to one of the greatest films ever made, but it has a spellbinding story of its own to tell – chronicling Herman Mankiewicz's battle against the oppressive powers of Hollywood and ultimately crafting a grand protest in his art.
#3. Palm Springs
Average Score: 4.2955/5
The general monotony of staying at home every day led to a whole lot of Groundhog Day jokes in the early months of 2020, but then the year got its very own time loop movie to enjoy, and enjoy we did! Adding a twist to the general idea by having multiple people experience the same cycle instead of just a single protagonist, Max Barbakow's Palm Springs is an endlessly entertaining genre mashup featuring ace performances by Andy Samberg and Cristin Milioti, and few movies made us laugh as hard in the last 12 months. It's clever, super creative, and, ironically, can be enjoyed time and time again.
#2. Promising Young Woman
Average Score: 4.6/5
Revenge movies have long been a staple of cinema, with The Count of Monte Cristo getting its first film adaptation back in 1908, and based on that fact you may think you've seen every size and shade the subgenre has to offer. Emerald Fennell begs to disagree, and Promising Young Woman is her phenomenal retort. Your best experience watching it will come knowing very little about it, so we'll keep details to a minimum for now, but prepare to go through every visceral reaction available on the human spectrum, and to truly and finally recognize Carey Mulligan as the exceptional actor that she has always been.
#1. Soul
Average Score: 4.6316/5
Animation has a strong record in the history of these According To CinemaBlend rankings, and this actually marks the third year since 2015 that an animated feature has nabbed the top spot, with past winners being Moana (tied for first in 2016) and Spider-Man: Into The Spider-Verse (which earned nothing but five stars across the board in 2018). And if you've seen Pete Docter's Soul, you should understand why we love it so much. Earning 11 five star reactions from our staff, the film is a fascinating examination of life, death, and purpose, and the most mature work produced by Pixar to date. It's a magnificent work of art, and our collective favorite movie of the 2020.
How do our staff picks line up with your own list of favorite new releases from the last year? If you haven't seen some of the movies we picked, are you excited now to check them out? Hit the comments section with your thoughts, and please join us here at CinemaBlend for another awesome year of celebrating film in 2021!
Your Daily Blend of Entertainment News
Assistant Managing Editor
NJ native who calls LA home and lives in a Dreamatorium. A decade-plus CinemaBlend veteran who is endlessly enthusiastic about the career he's dreamt of since seventh grade.