Why Dwayne 'The Rock' Johnson Has To Stay So Fit All The Time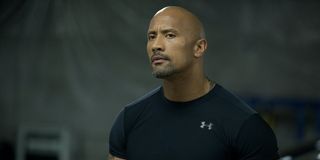 It's no secret that tons of celebrities have incredible physiques. It's also no secret that those beach bods and superhero six-packs only come through a lot of hard work. Take Dwayne "The Rock" Johnson, for example. The pro-wrestler-turned-movie star is known not only for his charisma, but also his insane muscles.
Most of Dwayne Johnson's films feature the star's biceps and pecs as supporting actors. This isn't to say that The Rock isn't a delight to watch on screen (Jumanji: Welcome to the Jungle cracks me up every time), but there's definitely a physical standard for action stars in Hollywood. As such, Johnson goes to great lengths to maintain his impressive physique. How does Dwayne Johnson manage to keep his figure so shredded? His personal strength and fitness coach, Dave Rienzi clued Muscle and Fitness in with the following:
That makes sense, right? When you're as in-demand as Dwayne Johnson, you have to be ready to shoot a crazy car chase or an acrobatic action sequence at a moment's notice.
However, that fitness comes at a price. Dwayne Johnson recently posted a list of his previous injuries on social media. Throughout his time as a football player, wrestler and action star, he's amassed four knee surgeries and several torn muscles, as well as a complete shoulder reconstruction. That's enough wear and tear to take down Superman. Good thing The Rock has an expert in his corner, as his coach Dave Rienzi is known for his physical rehabilitation expertise.
It's not all herniated discs and acupuncture, though, as The Rock always manages to find the humor. While filming the Netflix original movie Red Notice, Dwayne Johnson was apparently too ripped to fit inside his character's Porsche. He posted about the experience on Instagram, saying that he and the crew could not stop laughing.
Luckily for fans of The Rock, his fitness regimen seems to be working. Dwayne Johnson has multiple projects coming up, including the long-awaited Black Adam solo film. Red Notice will premiere on Netflix later this year, and Black Adam, which went into production earlier this month, will premiere on July 29, 2022. It's about time Dwayne Johnson got to play a superhero - he basically is one.
Actor, singer, and occasional dancer. Likes: fashion, books, old buildings. Dislikes: cilantro, the NJ Turnpike, sneaker wedges.
Your Daily Blend of Entertainment News
Thank you for signing up to CinemaBlend. You will receive a verification email shortly.
There was a problem. Please refresh the page and try again.