Red Notice: That Time Dwayne Johnson Was So Ripped He Couldn't Fit Into A Porsche During Filming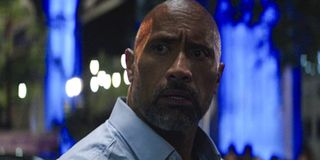 Dwayne Johnson has built an impressive action star brand and successful Hollywood career, some of which is due to his ripped physique. Typically, being totally shredded only has benefits for actors in Hollywood, but every now and then, it might present a problem. You know, like that time Dwayne Johnson was too big to fit into a Porsche while filming his latest movie Red Notice for Netflix.
In his action movies, Dwayne Johnson's characters can do many things, like defying gravity, bullets and sometimes even death itself. Unfortunately for Red Notice, Dwayne Johnson couldn't fit inside a Porsche because of his overwhelmingly large muscles and giant frame. But rather than sweep that moment under the rug, he laughed along and shared the story on social media. Check it out:
That's amazing. To recap, Dwayne Johnson needed to act in a high-speed car chase scene in a Porsche. They imported the Porsche to the set for the scene, and when Skyscraper director Rawson Marshall Thurber asked Dwayne Johnson to get into the car, he awkwardly couldn't. Once Thurber realized Johnson couldn't fit, he, the rest of the crew and Johnson laughed hard about it and then found a creative way to get the shot.
It's a good thing Dwayne Johnson has a good sense of humor while on set for Red Notice. Not only did he have to contend with not being able to fit into a Porsche, but he also dealt with quip master Ryan Reynolds while on set. The two reportedly had so much fun trying to get each other to laugh that they kept delaying the shoot.
He might be laughing it up on set, but it sounds like Dwayne Johnson's character in Red Notice is anything but a funnyman. Over the course of the year, he's shared set photos from the production featuring his character, who looks like a rougher around the edges and no-nonsense kind of guy. That sounds about right for the type of characters Dwayne Johnson has played in the past.
Red Notice also isn't a laughing matter for Netflix. The company scooped the expensive action-comedy up from Universal Studios at a high price tag. It'll also be the first film for Dwayne Johnson and Gal Gadot to go to a streaming platform, which could make Netflix a big destination for their fans. That said, they likely have high hopes Red Notice will deliver.
While story details about Red Notice are slim at this point, we do know it's about an INTERPOL agent (Johnson) chasing down the world's greatest thief (Gal Gadot) and con-man (Ryan Reynolds). It also doesn't seem to have a release date yet, so stay tuned to CinemaBlend for the latest.
Your Daily Blend of Entertainment News