Dwayne Johnson Shows Off His Black Adam Muscles And They're Impressive, Even For The Rock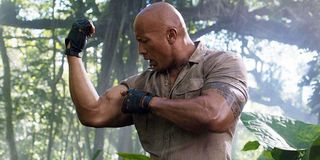 Being in shape is kind of Dwayne Johnson's thing. So it's not exactly a surprise when he shows off the efforts of his hard work in the gym. Still, when he recently gave fans an update on how his Black Adam training is going, it also served as a big reminder as to why he's called The Rock.
Fans of Dwayne Johnson know he's been waiting a long time to realize his dreams of bringing a Shazam! spin-off about Black Adam to the big screen. The DC film has been a passion project for the actor, and one he's worked diligently to get off the ground, both as a star and as a producer. Recently, he shared a new update about the film's progress with his fans on Instagram. Check out the post here:
You may have been so distracted by the sheer spectacle of his muscles that you missed the accompanying message. If so, the gist of it is that he's been hard at work preparing to get in front of the camera, because Black Adam begins production in spring of 2021. Dwayne Johnson thanked his personal trainer Dave Rienzi for helping him get to 227 pounds of muscle.
The fact that Dwayne Johnson took the quarantine 15 in a much different direction than the rest of us is no shocker. We knew he wasn't slacking, because he's kept fans regularly updated via social media over much of the last year, going live from his personal gym and offering advice. Though, he did make sure to show some empathy for those of us who haven't been able to actively work toward beast mode at home.
Still, the clear results of all his efforts are pretty stunning and a good reminder of just how dedicated he is to his career. They should also give us all a reason to get excited for Black Adam. Many of the film's key details have slowly been coming together over the past few months -- for instance, we know Jungle Cruise's Jaume Collet-Serra will be directing, and it looks like the cast is starting to be finalized, with Aldis Hodge circling the key role of Hawkman.
We still don't know for sure when we'll finally get to see Black Adam. While it was originally slated for a December 2021 release, pandemic-induced delays in production on Dwayne Johnson's Red Notice may have pushed back the shooting timeline for the superhero film, which could mean a delay in its release as well
One thing that feels pretty certain, though, is that Dwayne Johnson will keep us updated on Black Adam's progress. And if that includes more sneak peeks at his journey to bringing the character to life, he's unlikely to face many complaints.
Are you excited to see Black Adam? Let us know in the comments!
Your Daily Blend of Entertainment News
Thank you for signing up to CinemaBlend. You will receive a verification email shortly.
There was a problem. Please refresh the page and try again.