Sounds Like There Was An Added Benefit To Visiting Disneyland On Opening Day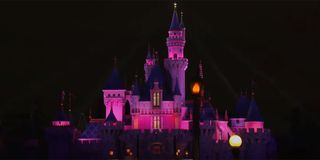 After being shuttered for more than a year, Disneyland finally dropped the rope and let guests back in this past week. Competition for the coveted spots was, of course, really high as many fans of the Mouse House wanted to be there for the big reopening. Capacity limitations related to the pandemic only made the ticket buying process more intense, but for those lucky enough (or determined enough) to get a ticket and stroll through Sleeping Beauty's Castle on reopening day, there was also an unexpected side benefit: really short lines.
Lines at Disneyland vary quite a bit based on seasonality, time of the day and popularity of the individual ride itself, but basically across the board, ride times this past Friday were way better than anyone would have guessed. In the morning, most of the more popular rides were in the fifteen to twenty minute range, with many of the least popular rides being five minutes or walk on. Things crowded up a bit in the afternoon with some wait times reportedly getting closer to the forty-five minute range, but that's much less than fans normally experience on a busy day. I mean look at the breakdown of this person's wait times...
Peter Pan at six minutes is especially crazy. Despite being on the shorter side and a bit low-tech in its execution, it's not unusual at all to see the ride at forty-five minutes to an hour. There are times in which it can even reach ninety minutes or more on a particularly busy day, especially at peak times in which a lot of children and their parents are in the park. I get it though. There's something so relaxing and magical about flying over the miniature recreations and thinking about simpler times. I'm not the only one who couldn't get over the Peter Pan wait times either.
The woman in the tweet below talks about seeing Peter Pan at only fifteen minutes and wanting to run to Fantasyland. I emotionally connect with that so hard. If you're in the park on a normal day and see the wait time of one of your favorite rides get unexpectedly short, either because it was closed and just reopened or because other people are avoiding it on the assumption it's long, you have an obligation to yourself to get there as fast as possible.
The most obvious reason for the shorter lines is, of course, the capacity restrictions. Disneyland is currently limiting the number of guests to twenty-five percent of capacity. Now that doesn't mean there's literally twenty-five percent of the normal number of people in the parks. It's not incredibly common for Disneyland to be at absolute capacity, though it does happen on occasion, but regardless, there are definitely less people than usual.
In addition, it's also likely Disneyland was operating with a high volume of staff on reopening day. There are times in which Disney doesn't operate at maximum efficiency, either by closing one side of the ride's loading queue or not being quite as speedy about moving guests along. We weren't there on Friday (unfortunately!); so, we don't know for sure how the boarding process was, but it's hard to imagine Cast Members weren't attentive and speedy with all eyes on the theme park yesterday. Regardless of why, hearing about the breezy lines or more often, checking themselves on the app led to a lot of people hitting up Twitter and expressing sadness they weren't there to take advantage...
Wait times reportedly trended up a little bit on Saturday, but from what I've seen, they were still far shorter than fans would normally expect to see on Saturdays. It'll be interesting to see whether this trend holds over the next several months. It's possible wait times could go up as Disney may adjust staffing a bit, or it's possible the wait times may go down if Disney continues to restrict out of state guests and in-state guests can't fill the full capacity.
One of the great things about visiting Disney on a semi-regular basis is you start to get used to all the trends and little quirks. You start to learn when certain rides tend to be busier and what time certain restaurants go on wait times. If you go long enough, you also start to notice how all of it evolves when larger changes to the parks are made. Well, the pandemic is the single biggest interruption in the history of the parks. I don't think anyone quite knows what will go back to normal and what is changed forever, and there's something really exciting about that, especially if it involves shorter lines.
Your Daily Blend of Entertainment News
Enthusiastic about Clue, case-of-the-week mysteries, a great wrestling promo and cookies at Disney World. Less enthusiastic about the pricing structure of cable, loud noises and Tuesdays.