Falcon And Winter Soldier's Head Writer Explains Why Karli Morgenthau's Ending Had To Be 'Heartbreaking' For Sam Wilson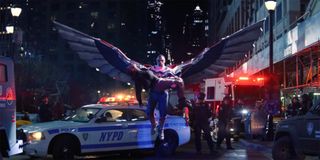 Spoilers for the Disney+ series can be found throughout this piece.
In the finale of The Falcon And The Winter Soldier, Karli Morgenthau, the leader of the Flag-Smashers played by Erin Kellyman, joins an ever-growing list: antagonists killed in the Marvel Cinematic Universe. What's definitely special about her case, however, is that Karli isn't exactly someone the audience wants to see die, and the hero present when it happens actually tries to prevent her death. It makes for a complicated ending to the series-long arc, and while head writer Malcolm Spellman says that the circumstances weren't always the same, the end goal was always to have Karli's exit be "heartbreaking."
I interviewed the filmmaker this week during a virtual press day held in the wake of the Falcon And The Winter Soldier finale, and one of my questions to the filmmaker was specifically about how the ending changed and if Karli's fate was always sealed. And while Spellman didn't specifically say whether or not every draft of the Episode 6 teleplay included her death, it most definitely was always the intention to have the conclusion of her story be emotional. He explained,
When you think about it, it's a hard way for Anthony Mackie's Sam Wilson to start his official journey as Captain America. In the episode, Cap intervenes when Karli and the Flag-Smasher attempt an attack on the Global Repatriation Council, but during the operation he is very clearly trying not to use deadly force. During their final showdown, the freedom fighter does everything in her power to try and get the star-spangled hero to properly engage her, but each step of the way he employs more defense than offense. It's only when the young woman demonstrates that she is clearly ready to kill him that she loses her life – and it's not Sam who is responsible, but instead Sharon Carter (who is likely happy to see Karli die given that she is one of the few people on the planet that knows that she operates as the Power Broker in Madripoor).
What makes the antagonist's death impactful is that throughout The Falcon And The Winter Soldier Sam is regularly demonstrating sympathy for Karli Morgenthau's perspective and the cause she is fighting. As Captain America, who is a hero viewed by many as a beacon of morality, he has a responsibility to avoid the rise of groups like the Flag-Smashers not purely through force, but through mediation, communication and social progress. There are a lot of people with endless cynicism who won't accept it, but his responsibility is to show them why they are wrong. He takes a loss in his first mission, but that surely only motivate him to do better and to encourage others to do better – as expressed in the impromptu speech he delivers to the GRC members while being filmed by news cameras.
Ultimately details of The Falcon And The Winter Soldier finale changed as it moved through the stages of development, but Malcolm Spellman always had a clear idea of what he wanted to do with the characters while wrapping up this story. This meant both implementing realities from our modern world as well as staying faithful to the comics. Said the head writer,
While Karli Morgenthau's story has come to an end, Sam Wilson's journey as Captain America is only beginning, as it was announced this past week that Captain America 4 is now in the works with Anthony Mackie set to headline and Malcolm Spellman penning the script. Unfortunately any attempt I made at asking about the sequel was basically shut down during the interview, so we'll just have to wait for news about the project to leak out to learn about its progress.
Meanwhile, Marvel fans can now rewatch The Falcon And The Winter Soldier in its entirety, with all six episodes now streaming on Disney+. To find out what else is in store for the MCU in 2021 and beyond, be sure to check out our Upcoming Marvel Movies guide, as well as our Upcoming Marvel TV guide.
Your Daily Blend of Entertainment News
Assistant Managing Editor
NJ native who calls LA home and lives in a Dreamatorium. A decade-plus CinemaBlend veteran who is endlessly enthusiastic about the career he's dreamt of since seventh grade.
Your Daily Blend of Entertainment News
Thank you for signing up to CinemaBlend. You will receive a verification email shortly.
There was a problem. Please refresh the page and try again.