6 Marvel Characters Stephen King Should Write Comics For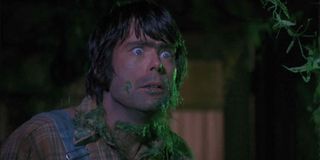 While Stephen King has worked in a wide variety of mediums over the course of his stunning and storied career, what's pretty remarkable is that he has spent shockingly little time in the world of comics. He has penned an adaptation of Creepshow (which was a film directly inspired by the EC Comics he loved growing up); contributed to a special Marvel comic in 1985 called "Heroes for Hope: Starring The X-Men" (which was made to raise awareness of hunger in Africa); co-wrote the first five issues of Vertigo's "American Vampire" series; and has seen both "The Stand" and "The Dark Tower" adaptations published… but that's the full extent of the history. Exactly why this is the case isn't clear, but fans can always hold out hope that things could change.
This raises the question: if Stephen King were to ever have a sit down with, for example, Marvel Comics, and have a discussion about penning a story for one of the publisher's many incredible characters and teams, which ones would be best suited for his voice? After putting some thought to that idea, we've come up with a list of six names, and you'll find the explanations for our choices below!
Hulk
Analyzing Hulk as he is traditionally known, it's pretty easy to see that his life is a horror story. The humungous green brute can be a mindless, uncontrollable force that has the very real potential to destroy the world, and locked inside him is a brilliant scientist desperate to rid himself of the Mr. Hyde to his Dr. Jekyll. Given Stephen King's remarkable ability to generate powerful empathy with his characters, Bruce Banner could make an excellent subject for a one-off story about the character battling his greatest demon. The idea of a hero struggling against his own literal monstrous transformations is material with which the author could surely do genius things, and in turn provide readers with new perspectives on the classic character.
Doctor Strange
One of the things that makes Stephen King and Marvel such a lovely pair is the fact that both parties have an affinity for interconnected storytelling – and for the former, it definitely goes beyond details like The Shining and Misery taking place in the same world. King's stories are all webbed together in an expansive multiverse of his own creation, and he has directly brought the concept into his work over and over in the last five decades. Considering this from a specific Marvel perspective, it would be fascinating to see what kind of tale he would weave with Doctor Strange as his protagonist, exploring all varieties of realities and dimensions filled with all imaginable wonders and horrors.
Daredevil
Reading Stephen King books is an enrapturing experience because of the level of detail that the author is able to capture – engaging the audience's senses to the point where you can fully imagine every facet of a scene. When you think about it, this is basically the power possessed by Daredevil: unable to literally see, but actually experiencing the world to a greater degree than normal because of his ability to absorb the minutia of the world. While Matt Murdock isn't exactly a character that feels like he could be a King creation, there is an aspect of his nature that very much clicks with the author's voice, and could result in a sumptuous and awesome story being told.
Young Avengers
One of Stephen King's most remarkable gifts as a writer has long been his ability to capture the experience of childhood and create realistic young characters – from the Losers Club in IT, Jack Sawyer in The Talisman, to the protagonists in "The Body" (the inspiration for Rob Reiner's Stand By Me). As such, it would be amazing to see him take on a Young Avengers arc – making this an entry different than all of the others pitched in this article because it's less about a specific character and more a team concept. King clearly has an affinity for writing stories about super powered kids, having previously introduced us to Carrie's Carrie White, Firestarter's Andy McGee, The Shining's Danny Torrance, Doctor Sleep's Abra Stone, and The Institute's Luke Ellis, and it would be amazing to see him tackle that kind of legacy paired with the incredible legacy of heroes in the Marvel Universe.
Werewolf By Night
Stephen King has dabbled in lycanthrope mythology previously in his career, most notably with the novella Cycle Of The Werewolf (which he himself adapted into the 1985 movie Silver Bullet), but writing an arc for Werewolf By Night in Marvel Comics would provide an interesting opportunity. In the canon, the "rules" involving the character's monstrous transformations are a bit different than the traditional ones, as he has the ability to turn at will with enough concentration, maintaining control of himself while doing so – but he is also still a slave to the lunar cycle, as he becomes a feral beast when there is a full moon. The Marvel hero is currently experiencing a renaissance of sorts, with the newly introduced Jake Gomez taking the "mantle" from the original Werewolf By Night, Jack Russell, and it would be amazing if King were one of the key creatives establishing Jake's legacy.
Blade
Because Stephen King excels at writing a lot more than just horror, I made a point while culling this list together to not to exclusively pick "scary" protagonists – which I certainly could have done given that the genre was huge for the publisher in the early 1950s. Blade, however, felt like a must, both because of the character's pop culture prominence, and also because of the author's history with the bloodsuckers via both Salem's Lot and the Dark Tower series. While a lot of the other ideas mentioned in this feature propose in-canon concepts for the traditional Earth-616 universe, it would be amazing to see a one-off limited Marvel series that would see badass daywalker Eric Brooks be brought into King's home turf to battle evil – either in the small towns of Maine, or All-World.
Which Marvel character listed here would you like to see the legendary author write comics for? Answer our poll below, and to learn about all of the projects that he has coming up both on the big screen and the small, be sure to check out our Upcoming Stephen King Movies And TV guide.
This poll is no longer available.
NJ native who calls LA home; lives in a Dreamatorium. A decade-plus CinemaBlend veteran; endlessly enthusiastic about the career he's dreamt of since seventh grade.
Your Daily Blend of Entertainment News
Thank you for signing up to CinemaBlend. You will receive a verification email shortly.
There was a problem. Please refresh the page and try again.