Pulp Fiction's Bruce Willis And John Travolta Are Finally Reuniting For New Movie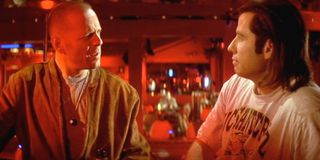 Quentin Tarantino's Pulp Fiction still endures as one of the best and most influential movies of the past 30 years. Many consider it Tarantino's best film and, to this day, its iconic dialogue is regurgitated by film fans more than ever. Even today, questions about the film are still being addressed by Tarantino himself. Bruce Willis and John Travolta both had iconic parts in the masterpiece that is Pulp Fiction and, now, they are finally reuniting for a new movie.
John Travolta and Bruce Willis will reunite after all these years in a new film called Paradise City, which will be directed by Chuck Russell. According to Deadline, the movie casts Willis as a renegade bounty hunter who must carve his through the Hawaiian underworld to get revenge on a crime lord played by John Travolta. The film is said to be reminiscent of Miami Vice, except instead of police, it will follow bounty hunters.
In addition to reuniting Bruce Willis and John Travolta for the first time since 1994's Pulp Fiction, Paradise City will also starThai model/actress Praya Lundberg will join the pair in the lead female role. Paradise City will be filmed in Hawaii, and production is slated to start soon. Since its being shot in Hawaii, the film will assuredly have beautiful visuals, and I'm sure it's a pretty good place to work for several months.
Paradise City will be the fourth time Bruce Willis and Travolta have been billed together on a movie, but only the second time they will appear on screen together. Their last venture Pulp Fiction saw Willis play boxer Butch Coolidge and Travolta portray mob hitman Vincent Vega. The pair share two incredible scenes in the Tarantino classic, one that takes place at Marcellus Wallace's club and another that features Vincent Vega's death at the hands of Butch later in the film. Quentin Tarantino's Pulp Fiction revitalized Travolta's career, giving the actor a second life in Hollywood, and it did similar things for Bruce Willis.
Bruce Willis and John Travolta have some really classic blockbuster movies. Willis, of course, starred in one of the best and most influential action movies ever in Die Hard, which depending on who you ask, is or isn't a Christmas Movie. Travolta also starred alongside Nick Cage in Face/Off, which is strangely one of the most rewatchable movies of the '90s that has excited fans for two decades with its genuinely bonkers plot mechanic.
Paradise City will give Pulp Fiction fans a hit of nostalgia when they see Bruce Wilis and John Travolta on screen together again after all these years. We probably won't be getting a Pulp Fiction prequel any time soon, so rewatching Tarantino's masterpiece will have to suffice while we wait to see how the Travolta/Willis reunion turns out.
Your Daily Blend of Entertainment News
Movie and TV obsessive. A good Heist movie is the way to my heart. Enjoyer of everything from Marvel Movies to Rom-coms.