Watch Dylan O'Brien Make A Bold Decision In Flashback Exclusive Clip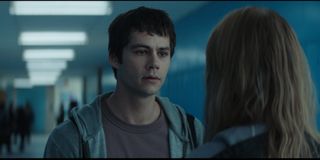 We all have those moments in our pasts that we look back on and wonder what on earth we were thinking. That concept is taken to a whole new level in the upcoming thriller Flashback. The film follows Fred (Dylan O'Brien) as he begins having horrific visions of a girl who vanished in high school. The moment that started it all is revealed in a new clip from the movie.
Flashback is set 15 years after Dylan O'Brien's Fred and his high school buddies take a mystery drug called Mercury. Fred works in an office and is seemingly successful until these visions of a girl from his past begin to haunt him and impact his work performance. Take a look at the moment he was first introduced to the drug below:
The clip introduces us to four characters: Fred (Dylan O'Brien), Andre (Keir Gilchrist), Sebastian (Emory Cohen), and Cindy (Maika Monroe). The latter three are familiar with the drug Mercury which the teens have shortened to Merc and are introducing it to Fred for the first time. At first glance, it seems like a classic peer pressure situation, but Fred's friends allow and even encourage him to make his own decision without anything influencing him.
I get The Matrix vibes from this clip from Flashback, with someone being handed a pill, given very little information about it, and yet being intrigued enough to swallow it anyway. Curiosity seems to be the main catalyst for Fred since the other kids aren't egging him on, making fun of him, or giving the impression that they will care if he doesn't take it. When he asks what it will do to him, the response is a few sly smiles, which is pretty ominous.
It's clear from the trailer that following the swallowing of this tiny pill, Dylan O'Brien's character goes on an insane trip, but ultimately ends up okay. We know that he graduates high school, assumingly college, and enters the workforce. Does he continue taking Mercury during that time, is it limited to his high school days, or just a one-time thing? What is the catalyst of his visions?
Dylan O'Brien has some serious depth to his acting abilities (it's a shame we didn't get more Maze Runner movies). I can't wait to see what he does with this character, especially playing him as both a teen and adult. Even in the 2-minute clip above, he conveys an assortment of emotions, capturing the skepticism, intrigue, excitement, and trepidation of trying something new.
I don't know about you, but the film's trailer and this scene combined have me all in on this mystery. Where is the missing girl? Is she alive? Did the drugs kill her? Why is only one of the guys having visions? I have so many questions! Obviously, Flashback will utilize flashbacks to unravel bits of the story to the audience as our protagonist uncovers them himself.
Flashback arrives in select theaters and everywhere you rent movies on June 4. Check out our best psychological thrillers to plan your next movie night in this genre.
Your Daily Blend of Entertainment News
Obsessed with Hamilton and most things Disney. Gets too attached to TV show characters. Loves a good thriller, but will only tolerate so much blood.