Mortal Kombat 2: One WWE Star Really Wants To Play Johnny Cage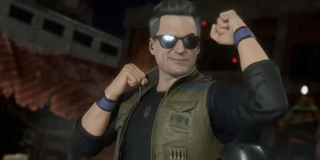 Mortal Kombat delivered the violent fights and mayhem fans expected while establishing a possible franchise that will continue the story and bring in even more iconic characters into the fold. Mortal Kombat featured some insane fatalities and featured a truly badass performance as Sub-Zero from Joe Taslim. The video game adaption did leave out a couple of important characters, saving them for the possible sequel and one WWE star really wants to play Johnny Cage.
Johnny Cage is one of the most recognizable characters in the Mortal Kombat franchise. He is an action movie star and martial artist who is flashy and confident, often to an annoying extent. WWE's The Miz is dying to play Johnny Cage, and he clearly sees himself as a natural to play the role. The Miz spoke to Looper about the prospect of playing Johnny Cage after fans called for it on social media, saying:
The Miz is excited about the possibility of joining the Mortal Kombat cast for a sequel. The Miz appreciates all of the fans who immediately started campaigning for him to be Johnny Cage. Even the co-creator of Mortal Kombat gave his support on the prospect of The Miz playing Johnny Cage. All in all, it would be a dream come true for the Miz, and the fact that it's a possibility is really cool. The Miz reiterates his desire and commitment to trying to land the role of Johnny Cage, continuing by saying:
The Miz is dedicated and says he is willing to put in the work to get this role. He cites his great work ethic and hopes that if he doesn't ultimately get Johnny Cage's role, he hopes the person who does get it works as hard as he was willing to. The Miz definitely resembles Johnny Cage and his WWE persona proves he is capable of giving off that distinct Johnny Cage charm.
Mortal Kombat had its brash smack-talking villain in Kano, who was so good at being annoying he got a humiliating fatality. Johnny Cage would fit in nicely alongside the real comedic force of Mortal Kombat Kano, who improvised a lot of his lines and who needs to be brought back for the sequel no matter what. With the hope of some beloved characters returning, fans hope Kano can hopefully return and trade insults with Johnny cage in the sequel.
Your Daily Blend of Entertainment News
Movie and TV obsessive. A good Heist movie is the way to my heart. Enjoyer of everything from Marvel Movies to Rom-coms.