Mortal Kombat's Kano Totally Improvised His Hilarious One-Liners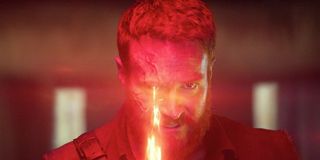 Mortal Kombat has a little bit of something for everyone. From the signature fatalities to the campy comedy, there's a lot to like. Recently, I had a chance to talk to Josh Lawson, who plays the iconic Kano in Simon McQoid's upcoming reboot, about tuning into the more hilarious aspects of the movie. According to Lawson, there was quite a bit of improvisation that went into his character's hilarious one-liners.
Ahead of Mortal Kombat's release, I asked the Kano actor about his character's snappy dialogue and if all of those witty one-liners were in the script. He had this to say:
While there were certainly scripted bits, it sounds like Lawson had plenty of chances to sneak in some dialog of his own. Apparently the opportunity to improvise on every take provided a chance to get to know Kano's character better:
Fans of the franchise may recognize that Kano's bark is certainly as big as his bite. The smack-talking leader of the Black Dragon cartel is known for his witty one-liners, longstanding feud with fellow original character Sonya Blade and powerful laser eye.
The upcoming Mortal Kombat reboot features just about every original character from the 1992 game, with the notable exception of Hollywood heart-throb Johnny Cage. Despite his absence, those involved with the project are optimistic that we will see the Shadow Kick artist in a potential sequel.
Cage's absence aside, Simon McQuoid's Mortal Kombat looks like a beautifully brutal good time that will please both long-time fans and newcomers alike. A major part of the entertainment will surely come from Lawson's performance as Kano.
Fans will have to wait to check out Mortal Kombat until it releases in theaters and on HBO Max this Friday, April 23rd. But if you don't mind light spoilers, you can watch the first brutal seven minutes of the movie right here.
Into tracksuits by Paulie Walnuts, the Criterion Channel and Robert Eggers.
Your Daily Blend of Entertainment News
Thank you for signing up to CinemaBlend. You will receive a verification email shortly.
There was a problem. Please refresh the page and try again.