F9 Reviews Have Arrived, Here's What Critics Are Saying About The New Fast And Furious Movie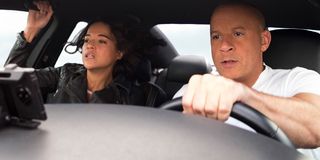 Summer blockbusters are back! Well, almost. F9, the ninth installment in the main Fast and Furious series will finally be released in June after many delays. The film is the first in the franchise to be directed by Justin Lin since Fast & Furious 6, and stars Vin Diesel, Michelle Rodriguez, Tyrese Gibson, Chris "Ludacris" Bridges, John Cena, Jordana Brewster, Nathalie Emmanuel, Sung Kang, Michael Rooker, Helen Mirren, Kurt Russell, and Charlize Theron. In the movie, Dominic Toretto (Diesel) and his family must face Dom's brother Jakob (Cena), who is working with their old enemy Cipher and seeks revenge against Dom.
Universal already held early screenings of the action thriller for some critics, and the reactions on social media were mostly positive. Now the movie is getting ready for its release to the public (though it already debuted in Hong Kong and South Korea, marking an impressive accomplishment for the Fast saga). F9 will release only in domestic theaters on June 25, and critics have started releasing their official reviews, so let's take a look.
CinemaBlend's own Eric Eisenberg didn't have a super positive review of F9, as he rated it a 2.5 out of 5 stars. Though he praised the fun action sequences, noting that it's hard to watch them without a smile, he criticized the film for being too familiar to previous Fast installments. He called the writing by Lin and Daniel Casey sloppy and the plot devices tired, saying:
David Ehrlich of IndieWire had similar criticisms to Eisenberg's, pointing out cringe-worthy writing and criticizing the "weightless" and absurd CGI. But Ehrlich enjoyed the fact that F9 focuses more deeply into Dom's character, and commended Lin for focusing on that real and human aspect. He said:
The absurdity of F9 is seen quite a few times in critics' reviews. Angie Han of Mashable argued that the action isn't very believable at all (and I mean, is anyone surprised?), but that it might not matter much because if you just stop trying to understand the details of what's happening, it's enjoyable. Another critique she had is the attempt of the movie to dive into the emotional backstory of Dom and his brother, Jakob. But overall, she thinks the big-screen blockbuster is fun, saying:
Hoai-Tran Bui from SlashFilm considers F9 to be a whole new level of absurdity. She argues that the film transcends parody with its ridiculous action sequences, and though they may be fun to watch, some fall flat "in a cloud of lifeless CGI." She also criticizes the emotional tone of the action blockbuster, noting that it really wants you to be invested in Dom's story, but that the attempt falls flat. But Bui did enjoy the movie overall, saying:
These critics so far have somewhat enjoyed the film, crazy though it may be. But John DeFore of The Hollywood Reporter had a bit of a different opinion; he thought the ridiculous stunts were just too idiotic to embrace. He also highly criticized the blockbuster's attempt to establish any emotional stakes that actually make sense, calling the script "flat." DeFore said:
Well, most critics mentioned above at least enjoy the action of F9, though it may be ridiculous. Will die-hard fans of the Fast franchise love the movie? We'll have to wait to see when the film releases only in theaters on June 25.
Until then, plan your next trip to the big screen with our summer movie release guide.
Your Daily Blend of Entertainment News