A Quiet Place's John Krasinski And 5 Other Actors From The Office Who Have Directed Movies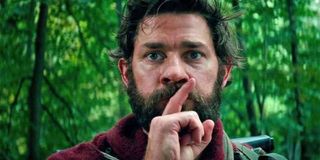 CinemaBlend participates in affiliate programs with various companies. We may earn a commission when you click on or make purchases via links.
On Memorial Day weekend, John Krasinski became a bonafide blockbuster moviemaker with the rousing box office success of A Quiet Place Part II. Once best known for his affable lead performance as Jim Halpert on NBC's rewatch-friendly The Office, the actor-turned-director turned into an unexpected genre storyteller with two successful franchise films under his belt. While it's safe to say that Krasinski worked his way up to the Hollywood ladder from his once-humble workplace comedy beginnings, the actor isn't the only Office cast member to jump behind the camera as a feature filmmaker.
Indeed, John Krasinski's former co-workers, including Jenna Fischer, Rashida Jones, and soon B.J. Novak, have also made the leap into moviemaking, though some found more success than others. Here are The Office actors who have directed their own movies.
John Krasinski (A Quiet Place And A Quiet Place Part II)
Admittedly, it's a bit strange that John Krasinski, the winsome up-and-coming actor who endeared TV lovers everywhere with Jim Halpert's goofy charm in NBC's The Office, has become one of the most impressive horror-blockbuster directors in recent memory. Nevertheless, Krasinski proved himself to be a dynamic triple threat — a capable actor/writer/director in nearly equal measure — with 2018's surprisingly suspense-laden A Quiet Place, an unnerving, nicely-refrained creature feature/sci-fi family drama with a taut, tense allegory for the dangers of parenthood in an uncertain world.
While John Krasinski's directorial influences — whether it's Steven Spielberg, Alfred Hitchcock, or Ridley Scott — are easy to spot, this purposefully restrained, carefully helmed third feature demonstrated an actor-turned-director with unsuspecting chops as a visual storyteller — something that wasn't apparent with his overambitious first film, an adaptation of David Foster Wallace's Brief Interviews with Hideous Men, nor his maudlin, self-conscious sophomore movie, The Hollars. While Krasinski owes too many debts to these aforementioned auteurs to stand on his own, he took the right lessons from his peers, which is also true of A Quiet Place Part II. Though it lacks the surprise factor and the tight (if flawed) screenplay of his previous movie, Krasinski's fourth film showcases a director who continues to adapt as a promising Hollywood hotshot.
Rent A Quiet Place on Amazon here.
Jenna Fischer (LolliLove)
In 2004, only a year before The Office premiered, Jenna Fischer made her own farcical mockumentary with LolliLove, an extremely low-rent hour-long feature centered around a misguided Californian couple, played by Fischer and then-husband James Gunn as fictionalized versions of themselves, who attempt to make a difference in the lives of the homeless by handing out lollipops with cherry affirmations and original artwork.
Shot on a shoe-string budget of $1,500, which is a staple of its distributor, Troma Entertainment (Troma founder Lloyd Kaufman provides a cameo), this extremely (and purposefully) modest satire is clever in its concept and personal in its approach, notably with the majority of this indie being shot in Jenna Fischer and James Gunn's real-life house. It also features real-life home videos and interactions that blur the line between fiction and reality. While the movie itself is a bit shapeless and patchy in its approach, the improvisational dialogue and the sharp wits of its leads push the biting social commentary on self-important, out-of-touch elites to chuckle-friendly success.
Alas, LolliLove became a one-and-done experience for its lead actress/writer/director. While Jenna Fischer earned praise for her debut, the intensive micro-budget filmmaking process soured the actress from directing again, detailing the process as "painful" in a candid interview. Therefore, while the TV star would find commercial success following The Office's success, Fischer opted to stay in front of the camera in the years to follow.
Stream LolliLove on Amazon Prime here.
Paul Lieberstein (Song Of Back And Neck)
While he was often the source of incessant, demeaning ridicule under Michael Scott's petulant leadership in the role of mild-mannered sad sack Toby Flenderson, in truth, Paul Lieberstein was often the one who called the shots on The Office. Whether as a producer, writer, or director, Lieberstein is — at least partly — responsible for shaping The Office into the lovable show that it is today. In fact, prior to this acting debut, Lieberstein focused his efforts entirely behind the camera, resulting in two Emmy wins. Writing/directing was his focus; acting came incidentally.
Therefore, it's not surprising that Paul Lieberstein eventually cashed in on The Office's long-standing goodwill to make his own film. That said, it's odd to see Lieberstein at the forefront of Song of Back and Neck — the actor's leading man debut in addition to his feature screenwriting and directorial debut.
Centered around an awkwardly deferential yes-man, played by our first-time filmmaker (surprise surprise), who suffers gruelingly intense back pain in his dissatisfied life, Song of Back and Neck doesn't seek to reinvent the wheel, particularly when it comes to quirky dramedies based around nebby low-men who can't stand up for themselves — quite literally, in this case. Yet, ironically, for a film about a guy in distressing, debilitating pain, there's a cute, comfortable charm to Paul Lieberstein's feature directorial debut.
Aided by the sharp talents of the actor-writer-director's co-stars, including Rosemarie DeWitt, Robert Pine, and fellow Office co-workers, Clark Duke and Paul Feig (the latter in a rare acting-only turn), Paul Lieberstein's amiable (if unadventurous) movie is too unruly to really come together in a lasting fashion — which is rather unfortunate for a movie about a man finding his core center. That said, this undemanding, unassuming directorial debut is unfittingly a pain-free watch that showcases his wry, winsome wit.
Rent Song Of Back And Neck on Amazon Prime here.
Rashida Jones (Quincy)
Paired alongside Alan Hicks, Rashida Jones opted to go close to home with her feature directorial debut, Quincy, Netflix's emotional, celebratory, and appropriately soulful examination at her unreserved father, along with the decades-spanning career and long-withstanding legacy behind one of the most accomplished musical legends of the 20th century. Painting an intimate, wistful, and warmly compassionate portrait of the renowned composer's consistently active — but increasingly frail — 80s, while also providing an expansive and engaging dedication to one of the most persistently evolving personalities of our times, it's safe to say that Quincy favors a loving look at the long-reaching resume of this workaholic talent. So much so that one wonders if the famous daughter's lens provides too delicate a touch on this artist's personal troubles.
But what often prevents Quincy from becoming outright hagiography is the subject's own candidness. While Quincy Jones is never quite as conversational as he is in that extraordinary Vulture interview, the award-winning musician is open and vulnerable about his bluesy feelings about aging, reflecting with tender remorse as his friends and colleagues "fall like flies," all while carrying a twinkle of pride in his eyes as he sees his children, grandchildren, collaborators, and legions of fans go on to achieve greatness through his immeasurable impact to the industry. It's not the definitive Quincy Jones documentary, but it's a touching tribute to one of the greatest musicians on the planet.
Stream Quincy on Netflix here.
Melora Hardin (You)
Also known as You: A Love Story, Melora Hardin's emotionally explorative and intensely yearning directorial debut, You, follows a decade-spanning narrative centered around a grief-stricken father (Gildart Jackson, Hardin's real-life husband who wrote the script) who struggles to raise his daughter alone following the tragic death of his beloved spouse (Hardin). Produced by the husband-wife couple at the film's center, You is so clearly a personal, passionate project for its wedded actors-filmmakers. It's a shame, then, that Hardin's romantic melodrama lacks the stirring dramatic urgency and the rich sense of emotional catharsis that compelled them to make this warmly intimate movie.
Co-starring Brenda Strong and Allison Mack (pre ... you know), You can be touching in its unabashed sincerity. Likewise, this broad-reaching small-scale romantic drama is limited in what it's able to achieve on a low budget, which makes it hard to criticize. Clearly, this is an enormously heartfelt film, filled with gentle earnestness, and it should be celebrated as such. Alas, Hardin stayed in front of the camera following The Office's run, though she returned to the director's chair for a recent episode of The Bold Type.
Rent You on Amazon Prime here.
Clark Duke (Arkansas)
Similar to John Krasinski with A Quiet Place, Clark Duke is indebted to his influences with Arkansas, a brooding, character-driven neo-noir that's liberally emulating the likes of Quentin Tarantino, Joel & Ethan Coen, Martin Scorsese, Robert Altman — to name only a few inspirations. Certainly, this crime drama doesn't mind lifting a few cues from the '90s ensemble pieces that shaped this actor-turned-director's early years.
Nevertheless, this self-aware, southern fried adaptation of John Brandon's 2008 novel demonstrates Clark Duke's rather resilient reverence for the irreverent dark comedies that populated movie theaters two — now three — decades prior, without sacrificing entertainment value along the way. Though not without its imperfections (the scope is lofty for a first-time feature, and Duke's shadowed photography can prevent the movie from complimenting its colorful cast of characters), the director presents himself as an admirable early filmmaker with a keen sense of how to balance tone and budding style.
Particularly with a best-to-date central performance from Liam Hemsworth, along with a coldly compelling villainous turn from Vince Vaughn, Arkansas is ultimately a bit undistinguished, but it's also a commendable debut in its own right. With a sharp ear for dialogue, a distinct sense of place, and an unwavering desire to impress, Clark Duke makes a familiar but finely-tuned little yarn in this well-worn, well-trotted crime genre.
Stream Arkansas on Amazon Prime here.
And eventually joining this list will be B.J. Novak, who played Ryan on The Office, in addition to writing, executive-producing and directing episodes of the NBC series. B.J. Novak will serve as writer, director and star of Blumhouse's thriller, Vengeance. While no release date has been set, the film is also expected to star Issa Rae, Ashton Kutcher and Dove Cameron, among others.
Your Daily Blend of Entertainment News
Will is an entertainment writer based in Pittsburgh, PA. His writing can also be found in The Playlist, Cut Print Film, We Got This Covered, The Young Folks, Slate and other outlets. He also co-hosts the weekly film/TV podcast Cinemaholics with Jon Negroni and he likes to think he's a professional Garfield enthusiast.