How Fat Thor Seems To Be Getting Back In Shape For Love And Thunder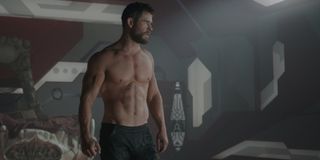 CinemaBlend participates in affiliate programs with various companies. We may earn a commission when you click on or make purchases via links.
Thor: Love and Thunder is currently in production, teasing an iconic Marvel location, starting fan theories, and adding heavy hitters like Russel Crowe into the film's already stacked cast. The next chapter in the Thor franchise is one of the most anticipated films in the MCU's phase 4, and it's shaping up to be a blast. Avengers: Endgame was the last time we saw Thor, and he wasn't in the best shape of his life. Here's how Chris Hemsworth's Bro Thor seems to be getting back in shape for Thor: Love and Thunder.
Thor has been through a lot as a character in the MCU, from his long Fabio-like hair and dyed eyebrows in first Thor to his shaved head gladiator look from Thor: Ragnorok. Chris Hemsworth has always stayed in tip-top shape to portray the God of thunder, but he and director Taika Waititi wanted to switch things up even more for Endgame leading to Fat Thor. That physical transformation resulted from Thor's trauma and unhealthy way of dealing with his personal failure and Thanos's victory in Avengers: Infinity War, but all signs are pointing to Thor getting back into godly shape in Thor: Love and Thunder. At least thanks to set photos via Twitter, which show him in over the top workout gear.
Photos from the set may have revealed how Thor will get back in shape in Thor: Love and Thunder, and of course it looks fun. The photos are of Chris Hemsworth in Sweatpants and an '80s inspired headband signaling that Thor is working out. The photos show a slimmed-down Thor, so it's safe to speculate we will see how he losses the extra weight he put on in the time during Endgame's time jump. Director Taika Waititi will definitely have fun with it, probably doing a hilarious action movie like a montage of Thor working out.
Chris Hemsworth is a workout warrior and has put in some serious work to maintain a believable physique for the God of Thunder. Hemsworth's Instagram is filled with different workouts he has done during and in between Thor movies. Fitness and health are a big part of Chris Hemsworth's life, so it must have been fun switching it up and putting on the prosthetics to play an out-of-shape version of Thor.
Fat Thor may be gone for good after Thor: Love and Thunder, but The Big Lebowski tribute will always be an iconic part of Avengers: Endgame. Looking back to the first Thor film, which deserves more credit, Chris Hemsworth's Thor's journey has been incredible and unlikely. Taika Waititi's Thor: Ragnorok gave the character a fresh start delivering one of the best MCU movies and finally unlocking Chris Hemsworth's best qualities.
Tom Hiddleston's Loki, which premieres in June, will surely provide some Asgardian relief as fans wait for Thor: Love and Thunder and speculate if Chris Hemsworth will make an appearance in the time-bending Disney+ series. Maybe there will be a final glimpse of Fat Thor before he burns off all the weight.
Your Daily Blend of Entertainment News
Movie and TV obsessive. A good Heist movie is the way to my heart. Enjoyer of everything from Marvel Movies to Rom-coms.