Star Wars' Mark Hamill Has The Best Response To Scientists Finding Fossilized Claw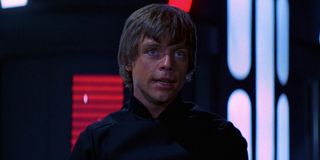 Star Wars' Mark Hamill is no stranger to Twitter, as he's known to leave funny comments referencing his work or to share a rare story that makes his fans go wild. So far, Hamill has co-signed on fan theories, addressed a popular and horrifying theory about Ewoks, and even responded to James Gunn's Guardians of the Galaxy Holiday Special. There is no shortage of content when it comes to Mark Hamill's Twitter presence, and he recently had the best (and Star Wars-related) response to scientists finding a fossilized claw.
A group of scientists recently discovered a 3000-year-old claw of a now-extinct bird, and Mark Hamill could not help himself. The Star Wars icon clearly waits for opportunities to create the perfect response because his message here is fantastic. Check out Mark Hamill's classic response via his Twitter:
Mark Hamill has seen this claw before: it's clearly a Rancor claw. As his post suggests, he knows a Rancor claw when he sees one because his Star Wars character had a rather intimate meeting with one in Return of the Jedi. Rancors are giant reptile-like alien monsters with claws similar to the one Hamill quote tweets. Jedi Knight Skywalker fought against one in Jabba the Hutt's palace, so Hamill can definitely speak on the beast's anatomy.
Seriously, does Mark Hamill come up with these tweets himself or does he have an assistant or two helping him write them? While we can't say for sure, it really doesn't matter because Mark Hamill continues to be one of the best celebrities to follow on social media. When you've been a part of so many important pop culture moments and portrayed such iconic characters as Luke Skywalker and The Joker, I guess the tweets just come to you naturally.
Mark Hamill is very open about his legacy and is always down to take a trip down memory lane or make a funny comment that invokes his classic character. Hamill recently dropped a hilarious video of his Star Wars co-star Harrison Ford dropping f-bombs after seeing a magic trick. And now, Hamill is now trying to take over another social media platform, as he's amassing followers very quickly on TikTok. Needless to say, you might want to give the actor a follow when you have a moment.
Mark Hamill's last appearance in a Star Wars movie was in 2019's The Rise of Skywalker, though he has appeared in another way since. His Luke Skywalker surprised everyone when he appeared in The Mandalorian's season two finale, providing fans with one of the most iconic scenes in recent Star Wars history. The impact Luke Skywalker has had and continues to have on popular culture remains a joy. And even if we don't see the iconic character again, we still have hilarious social media posts from Hamill to keep us entertained.
Your Daily Blend of Entertainment News
Movie and TV obsessive. A good Heist movie is the way to my heart. Enjoyer of everything from Marvel Movies to Rom-coms.
Your Daily Blend of Entertainment News
Thank you for signing up to CinemaBlend. You will receive a verification email shortly.
There was a problem. Please refresh the page and try again.