Cruella's Ending Sets Up A Weird 101 Dalmatians Remake And I Don't Want It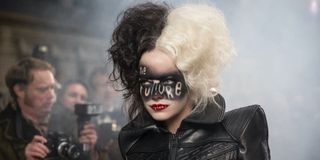 CinemaBlend participates in affiliate programs with various companies. We may earn a commission when you click on or make purchases via links.
Warning: SPOILERS for Disney's Cruella are in play. If you're not interested in learning anything you haven't seen happen on screen just yet, turn back and return only when you've seen the movie.
Disney landed another respectable hit recently with director Craig Gillespie's fashion-inspired spin on the 101 Dalmatians universe, Cruella. With Emma Stone depicting a young outcast rising to punk rock power, there's all sorts of antics that the original version of Cruella de Vil would never have engaged in. But for a movie that's supposed to set up a woman so wicked that "if she doesn't scare you, no evil thing will," a final act of kindness turns out to be the most devious thing that Cruella's plotline musters.
Now before we go to the dogs, it's time to throw out another spoiler warning. We're about to get into the ending of Cruella, and not in the way that our ending explained piece managed to do. If you want to dissect the movie's conclusion, that's where you want to be, as it explains a lot of what took place in the final act of the film. Whereas here, we are about to dive into just why one simple twist on the 101 Dalmatians story has set up a scenario that only Game of Thrones' royal families could find heartwarming.
What The Ending In Cruella Tells Us About Pongo And Perdita
At the end of Cruella, the titular fashion designer has risen to the top after vanquishing her foe, Baroness von Hellman (Emma Thompson). Now ready to rock and ruin, Cruella (Emma Stone) is set for a bright future in the fashion industry, which eventually sees her becoming a premier designer leading a house of her own. On top of making off with the Baroness's fortune, she also gets to keep the three Dalmatians that she'd previously kidnapped.
One of those Dalmatians, Genghis, is getting a little chonky, as observed by Horace (Paul Walter Hauser). And there's a pretty good reason for that, as it looks like between those three Dalmatians, Genghis has become a mother. At some point between the ending proper and the mid-credits sequence, we see that both Pongo and Perdita were given as gifts by Cruella to Roger (Kayvan Novak) and Anita (Kirby Howell-Baptiste), respectively. Now the stage is set for that disturbing Cruella scenario to fully take root.
The Fleeting Cruella Detail That Sets Up A Disturbing Scenario
Cruella, in short order, has established that Genghis is pregnant, and that Cruella has given away two of her puppies to people she considers friends. Roger, a former lawyer for Baroness von Hellman, and Anita, a reporter with whom Cruella was friends with in childhood, are both recipients of those puppies. And by 101 Dalmatians, the course of love is supposed to bring Roger and Anita, as well as Pongo and Perdita, together as couples.
Which makes the fact that both dogs are presumably from the same litter all the more disturbing. Explain it away with all of the facts about canine genetics you can muster, it still doesn't erase the truth of what Cruella has just turned 101 Dalmatians' charming love story into. Much as Jon Snow and Daenerys Targaryen hadn't figured out until it's too late, Pongo and Perdita are blood relatives, and that makes everything past that point more disturbing.
Why Cruella Is Better Off For Ditching The 101 Dalmatians Story
Honestly, getting rid of the yoke that is the 101 Dalmatians legacy is a bright idea when it comes to Cruella. On the surface, the film was never meant to connect with either the animated or live-action versions of Cruella de Vil's previous incarnations. So choosing to do something different probably left a lot of room for this scenario that's been presented to play out on its own terms.
But on top of not having to see Pongo and Perdy start a family as brother and sister, this means that there's an even better opportunity in the works. Cruella's new version of its central antihero is much more engaging and a hell of a lot more likable than her original character. So now that the audience is on the side of Emma Stone's variant of Cruella de Vil, the road is wide open for more adventures following fashion's new favorite hellraiser.
What Disney Can Do Rather Than Continue With A Traditional 101 Dalmatians Remake
Going another step further with what Cruella has given the audience to work with, you could basically drop Roger and Anita's story altogether. This new path could lead to two things that this first film sets up rather nicely. Should Cruella's continued rise to fame keep her together with Horace and Jasper (Joel Fry), there's a lot of potential for Ms. de Vil to hire her childhood friends to steal valuable intel on other designers; furthering the heist comedy angle presented in Cruella.
However, if Cruella de Vil is meant to shun her partners in crime, then a further descent into madness could be in order. Which, unfortunately, may lead to the dog skinning that animal lovers thought Cruella has done away with. Taking this option means that we'd get to see the increasingly dark and demented side that's been brewing in Cruella take over; giving Emma Stone even more of a chance to dig deeper into de Vil's psyche.
The ending of Cruella pretty much ensures a lot of mental gymnastics and retconning will be required to make a potential 101 Dalmatians remake work out. On the better side of the issue, it also gives us the best reasons why we don't even need another revamp of Dodie Smith's classic book. Let Emma Stone's Cruella be herself, as her brilliant, bad and a little bit mad style have given us a new lease on life for a Disney villain who could be much more exciting than she was ever allowed to be.
Of course, you can always sync this line of thought up with another viewing of Cruella, which is currently in theaters. Or, if you're a Disney+ subscriber, you can purchase the Premier Access option that unlocks Cruella in your library earlier than anticipated. But if you're not a Disney+ customer, then you'll want to take a look at the special bundle offer that gives you that platform, as well as Hulu and ESPN+, for one monthly rate.
Your Daily Blend of Entertainment News
Senior Movies Contributor
CinemaBlend's James Bond (expert). Also versed in Large Scale Aggressors, time travel, and Guillermo del Toro. He fights for The User.