Disney's Cruella Star Talks Shooting That Epic Fashion Show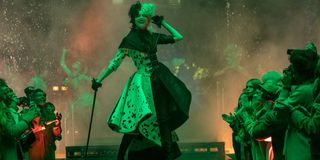 Fans of legendary villain Cruella de Vil and The Devil Wears Prada, Disney's Cruella was made for you. This film features 277 costumes across the principal cast and 47 changes for Emma Stone's Estella and Cruella. An insane amount of detail went into every aspect, including the fashion, so it's no wonder the fashion show was John McCrea's favorite scene to shoot.
Bonding over their mutual love of fashion, Estella (Emma Stone) and Artie (John McCrea) get on quite quickly. Artie owns a vintage shop that Estella frequents as she rises in her career as a designer and also needs new material to debut each time she transitions into Cruella. While the sets are elaborate from start to finish, the fashion show scene stands out, and here's why McCrea told CinemaBlend about filming it:
It sounds like the cast had a blast making Cruella. Even if it was early in the morning (or late at night, however you see it) and cold, who wouldn't love having a rockstar moment? McCrea mentioned it took quite a while for each actor to get into hair and makeup, which is not surprising seeing the detail that went into this film.
While Estella (Emma Stone) and the Baroness von Hellman (Emma Thompson) are both fashion designers, it was to be expected that both of these characters would have elaborate costuming. It was a pleasant surprise to see the ornate detail extended to all characters, including the extras (and that pop-up fashion show included 250 supporting cast). Hats off to designer Jenny Beavan for her truly impeccable costume work.
You can see Disney's Cruella in theaters now, and on Disney+ with Premier Access. If you love fashion, check out Freeform's The Bold Type or Paramount+'s Younger for some amazing looks. Check back with CinemaBlend for updates on the Cruella cast - where they've been and where they're going.
Your Daily Blend of Entertainment News
Obsessed with Hamilton and most things Disney. Gets too attached to TV show characters. Loves a good thriller, but will only tolerate so much blood.
Your Daily Blend of Entertainment News
Thank you for signing up to CinemaBlend. You will receive a verification email shortly.
There was a problem. Please refresh the page and try again.