Fast And Furious' Jordana Brewster On Paul Walker's Continued Legacy In F9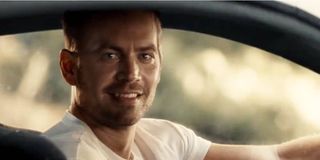 F9 comes out domestically on June 25th, and the hype around the envelope-pushing action Fast franchise grows by the week. The film has been released in several international markets, and the stars were ecstatic as F9 crushes the worldwide box office. Fans of the franchise are excited for the return of Han, played by Sung Kang, who has some thoughts on the redemption of the man who "killed" him. The late Paul Walker continues to be a part of the fabric of the franchise, and Jordana Brewster has recently remarked on Paul Walker's continued legacy in F9.
After the passing of Paul Walker, the Fast and Furious franchise sent him off with a beautiful tribute at the end of Fast and Furious 7. Rather than kill off his character, the decision was made to retire Brian O'Conner from the fast life, settling him down with his wife and son. Jordana Brewster has commented on the continued legacy Paul Walker has in F9, telling Good Morning America:
Jordana Brewster says that Paul Walker's character Brian O'Conner is still a huge part of the DNA of The Fast and Furious, and that Paul Walker is a massive part of the legacy of the franchise. Jordana Brewster plays Mia Torretto, who is Brians's wife and since the first movie 20 years ago, his love interest. The two have a history going back to the first Fast and Furious film, and she knows that Paul Walker was such a big part of why the franchise is what it is today.
Jordana Brewster also recently described how Walker helped her through a major stunt. It will be interesting to see how the team behind Fast and Furious handles Paul Walker's character going forward and the role of Jordana Brewster's Mia in F9. A lot of consideration and care has gone into how the franchise has dealt with the passing of Paul Walker, and there will indeed be handled in F9 just as well.
Fast and Furious star Lucas Black has commented on returning to the franchise alongside his Tokyo Drift co-star Sung Kang. F9 is continuing the trend of bringing together everyone from every film, bringing together the story, and making sense of the timeline. The family is forever, as Vin Diesel likes to remind fans, and the next part of their journey looks insane.
Fast and Furious 10 is almost a sure thing, and here's everything we know about it. Fast and Furious 9's release is inching closer. It is virtually guaranteed to be one of the biggest theatrical releases of the pandemic era as more and more people are venturing to theaters once again.
Your Daily Blend of Entertainment News
Movie and TV obsessive. A good Heist movie is the way to my heart. Enjoyer of everything from Marvel Movies to Rom-coms.