Zack Snyder Shares Cool Army Of The Dead Video That Mixes Zombies With Baseballs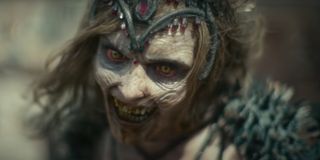 Last month, nearly 20 years after he delivered his Dawn of the Dead remake to the masses, Zack Snyder followed up his definitive Justice League vision with a return to the zombie genre. Army of the Dead premiered on Netflix, and this time around, the zombie-centric story revolved around a team being put together to recover $200 million from Las Vegas, which is now filled with the undead. One of the team's members was Raúl Castillo's Mikey Guzman, and now we have footage of the character finding a new way to take out zombies: using baseballs.
Before he was recruited by Dave Bautista's Scott Ward and Ana de la Reguera's Maria Cruz for Army of the Dead's ambitious heist, Mikey Guzman spent his days recording viral ideos of him creatively gunning down zombies. But you don't always need a gun to take out a zombie with a headshot. If you're feeling daring, just break out some baseball equipment, as shown in Guzman of the Dead 420 video that Zack Snyder shared on Twitter:
One doesn't collect YouTube subscribers by conventionally shooting zombies every week. You have to find new ways to spice things up and entertain viewers, so on this sunny Las Vegas day, Mikey Guzman and a few of his buddies decided to hold baseball practice with a trio of shamblers, the slower and less intelligent breed of zombies in the Army of the Dead universe. The end result: one shambler taking a baseball to the head after Guzman missed a few times with the baseball cannon, as well as Guzman's friend pummeling the other two shamblers with a baseball bat.
For those of you who want to see more of Mikey Guzman killing zombies to gain online fame, you're in luck. Netflix has shared a compilation video of the character's greatest zombie kills pre-Army of the Dead, including the baseball footage. Take a look!
Warning: SPOILERS for Army of the Dead are ahead!
Had Mikey Guzman not agreed to go on Army of the Dead's heist, he could have spent a little longer killing zombies before the U.S. military dropped that nuke on Last Vegas. Oh, and more importantly, he'd still be alive! But in Guzman's eyes, $500,000 was worth the risk, and bringing his friend Chamber along with him, he embarked on the dangerous mission. Sadly, both Chambers and Guzman perished during the heist, with Guzman being forced to shoot the gasoline canister on Chambers' back when she was overrun by zombies, and him later detonating his grenades right as he was about to be bitten. Oh well, at least Guzman's memory will live on through these amusing zombie videos.
Army of the Dead is now playing on Netflix, and don't forget to read CinemaBlend's review of the movie. Find out what the streaming service is delivering this month by scanning through our comprehensive guide. The Army of the Dead franchise will continue with two prequels: the live-action movie Army of Thieves and the anime-style series Army of the Dead: Lost Vegas.
Your Daily Blend of Entertainment News
Connoisseur of Marvel, DC, Star Wars, John Wick, MonsterVerse and Doctor Who lore. He's aware he looks like Harry Potter and Clark Kent.