Army Of The Dead: What To Watch If You Like The Zack Snyder Movie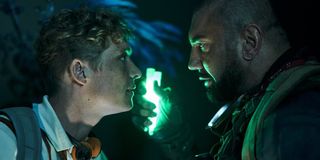 CinemaBlend participates in affiliate programs with various companies. We may earn a commission when you click on or make purchases via links.
If you are like a large portion of the Netflix subscriber base, you have either watched or plan on watching Zack Snyder's Army of the Dead, the latest offering from one of the most visionary and divisive filmmakers in today's Hollywood. After watching the over-the-top zombie-heist action thriller, there's a good chance you want check out more movies like it. I mean, with so many elements from multiple genres included — zombie horror, crime, action, family drama — it's easy to think back on titles like Dawn of the Dead, Heat, and The Road for a myriad of reasons.
With that in mind, I've compiled a list of movies like Army of the Dead worth checking out, dead pixels and all. Each of these have a least one thing in common with Army of the Dead, whether it be zombies, an intricate casino heist, or the bond shared by a parent and their child. And no, not every single one of these movies fall in the zombie genre, but quite a few do…
Dawn Of The Dead
Zack Snyder's 2004 Dawn of the Dead remake (which was penned by James Gunn), has the same basic premise of George A. Romero's 1978 horror classic: a group of survivors take shelter in a shopping mall during a global zombie outbreak. Led by Sarah Polley, Ving Rhames, Jake Weber, and Michael Kelly, the movie shows there is no stopping the inevitable and safety is not guaranteed.
It is fun to go back and watch Dawn of the Dead after completing Army of the Dead to see where Zack Snyder came from and how he has progressed as a filmmaker since making his directorial debut (and introducing amazing title sequences) 17 years earlier.
Rent/Buy Dawn of the Dead on Amazon. (opens in new tab)
Ocean's Eleven
Steven Soderbergh's 2001 remake of the Rat Pack crime-comedy Ocean's Eleven follows recently paroled thief Danny Ocean (George Clooney) as he puts together a team of career criminals to pull off an elaborate Las Vegas casino heist while the city is distracted by a high-profile boxing match. But even with the brightest minds (Brad Pitt, Matt Damon, Don Cheadle included) there's always a chance the plan will blow up in Ocean's face.
From the jump, Army of the Dead has been called the Oceans Eleven of zombie movies, and you wouldn't be wrong to think of it that way. This 2001 crime caper has a lot of the same elements as Zack Snyder's latest film: a casino heist, a team full of personality, and little room for mistakes.
Stream Ocean's Eleven on HBO Max. (opens in new tab)
Rent/Buy Ocean's Eleven on Amazon. (opens in new tab)
Planet Of The Apes
The 1968 sci-fi film Planet of the Apes follows American astronaut George Taylor (Charlton Heston) as he and two others land on what appears to be an alien planet ruled by intellectual simians who hold humans as their slaves. With an established society with a class system, laws, and ruthless political system, the apes are not unlike man in Franklin J. Schaffner's complex classic.
There are multiple parallels with Planet of the Apes and Army of the Dead with the most striking being the way in which apes and zombies respectively have been able to defy man's logic and establish structured societies with their own classes, rules, and forms of punishment.
Stream Planet of the Apes on Cinemax.
Rent/Buy Planet of the Apes on Amazon. (opens in new tab)
Escape From New York
John Carpenter's 1981 dystopian action thriller Escape from New York follows Snake Plissken (Kurt Russell), a disgraced war hero with an eyepatch and lack of trust for the government, as he is sent into the giant maximum security prison complex that is Manhattan where the President of the United States is being held hostage.
Just like Scott Ward (Dave Bautista) and his team in Army of the Dead, Snake Plissken has to enter a walled off New York City, find and extract his target, and make it out of the city alive in a specific amount of time or he will be toast. And also like Zack Snyder's latest zombie film, John Carpenter's gritty thriller has its fair share of deceitful characters holding back key information from the central protagonist.
Stream Escape from New York on HBO Max. (opens in new tab)
Rent/Buy Escape from New York on Amazon. (opens in new tab)
Day Of The Dead
In 1985, George A. Romero released the third entry in his Dead franchise with the claustrophobic and dialogue-heavy Day of the Dead. Centering on what could very well be the last survivors of the zombie apocalypse, this underrated gem spends a great deal of time showing the divide between brain and braun through constant arguments (and more) between the surviving scientists and soldiers.
George A. Romero walked with Day of the Dead so that Zack Snyder could run with Army of the Dead in terms of having zombies exhibiting intelligence and proving they're capable of more than being mindless corpses stumbling from one meal to the next. An argument can be made that if it weren't for Bub (Sherman Howard) learning to use a gun (and salute), we wouldn't have Zeus (Richard Cetrone) ruling an entire kingdom of zombies.
Stream Day of the Dead on HBO Max. (opens in new tab)
Rent/Buy Day of the Dead on Amazon. (opens in new tab)
Land Of The Dead
George A. Romero's Land of the Dead picks up years after much of the human population has been turned into walking corpses with what's left of humanity taking shelter in heavily fortified feudal-like societies. Like all movies in the zombie genre, Land of the Dead shows there is no such thing as peace and safety from the world outside, especially when the undead begin to learn and adapt to their surroundings.
The late George A. Romero took a giant leap with the evolution of the zombie in Land of the Dead, especially with Big Daddy (Eugene Clark), the leader of the film's zombie army who leads a charge to the walled off city of Pittsburgh and the ivory tower that is Fiddler's Green.
Stream Land of the Dead on Peacock. (opens in new tab)
Rent/Buy Land of the Dead on Amazon. (opens in new tab)
The Road
Based on Cormac McCarthy's celebrated novel of the same name, John Hillcoat's 2009 post-apocalyptic survival film The Road follows a father (Viggo Mortensen) and son (Kodi Smit-McPhee) as they traverse the decaying American landscape in hopes of finding a new life on the southern coast. Dark, dreary, and dirty this intimate and tense thriller sees the pair evade small pockets of cannibalistic savages while also not losing what little faith they have left in humanity.
At the center of The Road, just like in Army of the Dead, is a story about the love shared by a father and his child and his attempt to find redemption for himself and a future for his offspring, even if it means paying the ultimate price.
Rent/Buy The Road on Amazon. (opens in new tab)
Baby Driver
Edgar Wright's music-infused heist film Baby Driver follows Baby (Ansel Elgort), a talented getaway driver who has to constantly listen to music to overpower a bad case of tinnitus, as plans to pull off one more job before leaving town and his life of crime in the dust. But it's never as simple as getting in and getting out.
With a great balance of comedy and tense drama, Edgar Wright's 2017 crime thriller, which is one of the best movies on Amazon, is perfect for a double-feature alongside Army of the Dead due to both films centering around the "one more job" trope and the way in which their directors come up with brilliant ways of using music to help add to the story.
Rent/Buy Baby Driver on Amazon. (opens in new tab)
28 Days Later
The 2002 post-apocalyptic horror film 28 Days Later takes place just weeks after a group of animal rights activists unknowingly released the hyper-contagious "Rage" virus, which turns much of the United Kingdom into a hellscape overrun with zombie-like creatures hellbent on killing anything and everything they see. Following a group of four survivors — Jim (Cillian Murphy), Selena (Naomie Harris), Frank (Brendan Gleeson), and Hannah (Megan Burns) — Danny Boyle's tense thriller shows how far people will go when guided by hope.
One of the most fascinating aspects of 28 Days Later (and Army of the Dead in a sense) is the fact we don't really spend a lot of time with the early days of the pandemic, instead picking up later, throwing us into a world where we figure out what's going on and how we got here.
Stream 28 Days Later on Hulu. (opens in new tab)
Rent/Buy 28 Days Later on Amazon. (opens in new tab)
Heat
Michael Mann's 1995 crime thriller Heat follows master criminal Neil McCauley (Robert De Niro) as he plans one last big heist in Los Angeles all while trying to keep his team in line and avoiding the watchful eye of LAPD detective Vincent Hanna (Al Pacino). With a great deal of heat caused by a bank robbery gone awry, McCauley has to tread lightly if he wants to see this one through.
There are bank robbery movies and then there is Heat, which remains in a league of its own more than a quarter-century after its initial release. This is a must for anyone who especially enjoyed Army of the Dead's $200 million casino heist.
Stream Heat on Starz. (opens in new tab)
Rent/Buy Heat on Amazon. (opens in new tab)
Cargo
The emotionally-taxing 2017 Australian post-apocalyptic horror film Cargo brings a whole other level of emotion to the zombie genre with its story about an infected father (Martin Freeman) racing against time (48 hours at most) to find somewhere safe for his infant daughter before he turns.
One of the best movies on Netflix, Ben Howling and Yolanda Ramke's heartbreaking Cargo is similar to Army of the Dead in the sense that it is about a father's love for his child above anything else, even though he could very well be the one that does her in.
Stream Cargo on Netflix. (opens in new tab)
Within in the next couple of years, fans of Army of the Dead will have plenty of other options to choose from with the upcoming animated series subtitled Lost Vegas, the international crime prequel Army of Thieves, and hopefully another sequel on Netflix. In the meantime, we can watch all of the films mentioned above or go back and make sense of the Army of the Dead ending.
Philip grew up in Louisiana (not New Orleans) before moving to St. Louis after graduating from Louisiana State University-Shreveport. When he's not writing about movies or television, Philip can be found being chased by his three kids, telling his dogs to stop yelling at the mailman, or yelling about professional wrestling to his wife. If the stars properly align, he will talk about For Love Of The Game being the best baseball movie of all time.
Your Daily Blend of Entertainment News
Thank you for signing up to CinemaBlend. You will receive a verification email shortly.
There was a problem. Please refresh the page and try again.