Guardians Of The Galaxy Originally Hinted At Groot's Death With A Last Supper Shot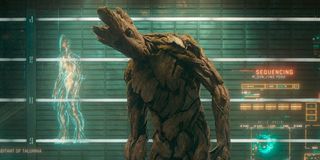 The MCU is absolutely popping off right now with its Phase 4. Not only are the Disney+ shows are flowing in, starting with WandaVision and The Falcon and The Winter Soldier, and now the new Loki series, there's also the new films coming into the mix a little later this year. Despite the awesomeness going on right now and in the near future, contributing Marvel director James Gunn is reminiscing a little bit and thinking back to a cool cut scene from his film Guardians of the Galaxy. Apparently Gunn almost hinted at Groot's death with a shot that's an ode to Leonardo da Vinci's The Last Supper.
Although James Gunn has The Guardians of the Galaxy Holiday Special, and Guardians of the Galaxy Vol. 3 in the works, he seems to be thinking back to his debut Marvel film by sharing a pretty sweet Last Supper shot, featuring some of our favorite aliens and a hint about the then-upcoming death of Groot. Gunn posted the foreshadowing shot to his Twitter, saying it was deleted from the film, but still completed by the VFX team. You can check it out below, with Groot front and center:
Okay, so Groot may not really die for good, but that little tidbit makes the Last Supper reference even more powerful. Groot is in the same position Jesus was in in the original painting, foreshadowing the fact that he would sacrifice himself for the good of everyone else. His sacrifice would come with a rebirth though, as Marvel fans know we were gifted with Baby Groot and then Teen Groot as he started his life cycle over from a twig.
Fans don't seem to mind that this new information is about an existing film rather than one of the upcoming Guardians projects, because commenters are absolutely loving this pic. Some fans are even taking it and putting it as their new screensaver or wallpaper, while others are reveling in just how perfect the Last Supper comparisons are.
Apparently the comparison was so perfect that it had to be cut from Guardians of the Galaxy altogether. One commenter asked James Gunn if the reference was just too on the nose to make it into the film, and Gunn pretty much confirmed as much in a follow-up Tweet. Well, that and it apparently was just an altogether awkward scene to fit in the film. Here's Gunn's reply and reasoning behind the cut:
While it's a shame when awesome things are cut from films, it's an even bigger shame when they never see the light of day. Thankfully, this little gem had its time in the sun and fans were able to enjoy looking back at an adult Groot before his death and rebirth, and we even get to see Drax the Destroyer by his side.
The Guardians of the Galaxy won't return until Thor: Love and Thunder comes out next year, but after that, we will have a good amount of Guardians content coming down the pipeline. In addition to Guardians of the Galaxy Vol. 3 and the promised Holiday Special, Groot will be getting his own Disney+ series around the same time called I Am Groot. Until then, more cut shots and scenes are more than welcome, especially if they're as on point as this Last Supper homage.
Your Daily Blend of Entertainment News
Constantly thinking about books, coffee, and the existential dread I feel from Bo Burnham's Inside. While writing I'm also raising a chaotic toddler, who may or may not have picked up personality traits from watching one too many episodes of Trailer Park Boys.