George Clooney Recalls How Batman And Robin's Flop Indirectly Led To Him Becoming A Movie Star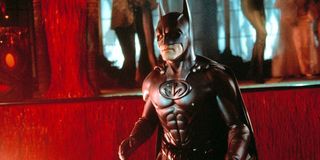 George Clooney is a man so successful that he can give his closest friends million dollars and not break a sweat. Clooney has been in so many great movies, has been nominated for and won Academy Awards, and has generally been one of the biggest stars on the planet for the past 25 years. Batman and Robin is one of his most notorious films, maligned by fans, critics, and Clooney himself. But the actor recently recalled how the movie's failure indirectly led him into becoming a movie star.
Believe it or not, the fallout from Batman and Robin actually played a part in George Clooney's rise to movie stardom. It's fascinating to think that a flop could actually be the thing that helped Clooney's career the most. Flops usually make things much harder, especially when you are trying to establish yourself in the movie world like Clooney was. While speaking on BAFTA's Life in Pictures, he described his experience after Batman and Robin and what he learned from it, saying:
George Clooney talked about his experience in the aftermath of Batman and Robin and how he realized that he would bear the brunt of the criticism because he was the star of the film. At that point in his career, he was just an actor that got a role, and he quickly realized that his choices could make or break him. Clooney says he shifted his focus to finding better scripts to try and better carve out his career in movies. He continued by saying that if your script is bad, then your movie doesn't have a chance, meaning that the quality of the scripts would guide his choices.
George Clooney was a major television star off the back of one of the most popular shows of its era, ER, but his jump to movies didn't go as smoothly as he had hoped. Clooney says he came across the script for Out of Sight, thought it was great, and ultimately became attached to the project. Clooney and the film's producers, which included Danny DeVito, met with Steven Soderbergh to gauge his interest in directing Out of Sight. Clooney says that both he and Soderbergh were coming off projects that didn't turn out the way they wanted and that they both needed a win, as he further explained:
George Clooney and Steven Soderbergh ended up making Out of Sight, which provided for a great showcase for Clooney and would result in the pair collaborating many times throughout their careers. Out of Sight didn't do well at the box office, but it was a hit with critics and became a beloved movie that is still one of the best of his career. Out of Sight established George Clooney as a true movie star, and the lessons he learned from Batman and Robin played a big part in molding the decision-making approach that led to him take on the project. Clooney says the cache he built up with Out of Sight proved he belonged in the movie world and that he could cast aside the implications of his TV stardom.
George Clooney is currently spending his time getting real about turning 60 and making commercials where he buys Batman toys and obsesses over Brad Pitt. Clooney is also directing The Tender Bar, which stars Ben Affleck and, during the shoot, he even popped up a few times to meet with eager onlookers. Needless to say, a flop really did turn George Clooney into one of our biggest stars.
Your Daily Blend of Entertainment News
Movie and TV obsessive. A good Heist movie is the way to my heart. Enjoyer of everything from Marvel Movies to Rom-coms.