The Indiana Jones Movies: 10 Cool Secret Easter Eggs To Watch Out For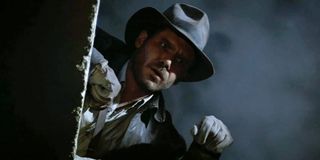 CinemaBlend participates in affiliate programs with various companies. We may earn a commission when you click on or make purchases via links.
Because of everything that makes him such a badass action movie hero, we seem to forget that Indiana Jones is, first and foremost, an archaeologist exploring the world in search of its long lost mysteries. Of course, that lesser appreciated aspect of the character played by Harrison Ford would inspire many to pursue a career in archeology in hopes to find artifacts as fascinating as the Ark of Covenant, the titular sought after item in Raiders of the Lost Ark, or, the "MacGuffin" of Indiana Jones and the Last Crusade, the Holy Grail. I, for one, prefer to conduct my treasure hunts from the privacy of my own home where I can rewatch the Indiana Jones movies - streaming now on Paramount+ - and look for the hidden Easter Eggs and behind-the-scenes secrets that go often unnoticed on a first viewing, such as this interesting tip about into how Indy got his name.
Several Characters Are Named After The Creators' Dogs, Including Indiana Jones
In the final moment of Indiana Jones and the Last Crusade, we not only learn that the title hero's legal name is Henry Jones - after his father (Sean Connery) - but that his chosen name was really that of his childhood dog. In a behind-the-scenes Raiders of the Lost Ark featurette originally filmed for the DVD collection released in 2003, producer George Lucas admits that Indiana was the name of his own dog - an Alaskan Malamute who also inspired Harrison Ford's furry companion in the Star Wars movies, Chewbacca.
In the behind-the-scenes Indiana Jones and the Temple Doom featurette from the same DVD collection's bonus disc, director Steven Spielberg points out that this tradition of naming characters after pets lived on in the 1984 sequel. Kate Capshaw's Willie Scott was taken from Spielberg's dog, and screenwriters Willard Huyck and Gloria Katz's dog, Short Round, inspired the name of Ke Huy Quan's character.
Harrison Ford Pays Tribute To His College Philosophy Professor In The Last Crusade
In addition to character based off of real pets, some characters from the Indiana Jones movies were inspired by real people. For instance, in an early scene from Indiana Jones and the Last Crusade, Indy tells his class that "archaeology is the search for facts, not truth," before adding that they can find the latter down the hall in Dr. Tyree's philosophy course.
According to FDL Reporter, Harrison Ford was a philosophy major at Wisconsin's Ripon College, where he studied under William Earl Tyree. Namedropping his former mentor while in character was the actor's way of showing some gratitude.
Jock's Aircraft Registration Number Is OB-CPO In Raiders Of The Lost Ark
Even the names of fictional characters would prove to be influential in all of the Indiana Jones movies. For instance, during the invigorating opening sequence of 1981's Raiders of the Lost Ark, specifically when Indy is running from the Havitos after Paul Freeman's Belloq snatches the Golden Idol, take a closer look at his friend Jock's (Fred Sorensen) airplane.
The registration number on Jock's aircraft reads OB-CPO, which is clearly a clever combination of the names of Star Wars characters Obi-Wan Kenobi and the C-3PO. Of course, this would not be the last time that both Alec Guinness' Jedi Master (later played by Ewan McGregor in the prequel trilogy and an upcoming Obi-Wan Disney+ TV show) and Anthony Daniels' gold-plated droid would get a shout out in George Lucas' other most popular franchise.
Wells Of Souls' R2-D2 And C-3PO Hieroglyphics In Raiders Of The Lost Ark
When Indiana Jones and Sallah (John Rhys-Davies) have finally uncovered the Ark of the Covenant from within the Well of Souls, you can see various hieroglyphics on the surrounding walls and columns. Audiences who paid enough attention to those illustrations would notice that one of those hieroglyphics appears to be quite familiar.
On the aforementioned making-of documentary, Raiders of the Lost Ark's production designer Norman Reynolds reveals that an engraving which resembles R2-D2 and C-3PO from Star Wars appears in one shot to the left of Indy as he and Sallah are lifting up the Ark. Reynolds claims that this was Steven Spielberg's idea, but I am not sure whose idea it was to include, arguably, the coolest Star Wars Easter Egg in Indiana Jones and the Temple Of Doom.
Temple Of Doom Opens At Club Obi Wan
The 1984 follow-up to Raiders of the Lost Ark (which is actually a prequel set in 1935) begins with lounge singer Willie Scott (Kate Capshaw, who would become Steven Spielberg's wife) performing a Mandarin-language rendition of "Anything Goes" in a lavish club in Shanghai, China. It is not until after Indiana Jones' conflict with the owner, Lao Che (Roy Chiao), sends he and Willie, literally, tumbling out of a window and into Short Round's car when we learn the name of the night spot.
It is a bit of a "blink and you miss it" moment in Indiana Jones and the Temple of Doom when Short Round speeds off in front of the establishment they just escaped and the sign above its entrance reads "Club Obi Wan." I wonder how a devout Jedi Master like Obi-Wan Kenobi might feel about having a night club, owned by a ruthless crime lord, named after him.
Indy's Temple Of Doom Dinner Jacket Is Identical To James Bond's In Goldfinger
Of course, Star Wars is not the only franchise that the Indiana Jones films pay homage to. In fact, the idea for Raiders of the Lost Ark at first came from Steven Spielberg's own desires to make a James Bond movie before George Lucas convinced him that a throwback to serialized adventures of cinema's golden age would be even better.
The series' ultimate 007 Easer Egg is easily the casting of Sean Connery as Indy's father in the Indiana Jones and the Last Crusade, but Temple of Doom was the first to honor the late Scottish actor. The dinner jacket that Indy wears at Club Obi Wan is a dead ringer for James Bond's wardrobe at the beginning of Goldfinger from 1962, from the white stitching to the red boutonniere.
Carboneto Barrels Seen In The Last Crusade Are Another Star Wars Reference
You know, there is actually a funny theory that has been tossed around the Internet suggesting that all of the Indiana Jones movies are actually the dreams of Han Solo while he is frozen in carbonite. The Star Wars references we have already pointed out from Raiders of the Lost Ark and Indiana Jones and the Temple of Doom certainly give the theory some clout, but the most glaring potential clue comes from 1989's Indiana Jones and the Last Crusade.
When Indy, circa 1938, is reunited with a rival fortune hunter credited as "Panama Hat" (Paul Maxwell) on a boat braving stormy weather, the villain passes by a stack of black barrels labeled "carboneto." Now, in truth, when translated into English from Portuguese, this word means "carbide," which is a chemical compound made from caron and metal. However, I would not be surprised if Steven Spielberg and George Lucas threw that in because it sounded like the fictional substance that Han Solo is preserved in.
Toht's Coat Hanger Bit In Raiders Is From An Earlier Steven Spielberg Film
Steven Spielberg did not slouch on the opportunity to also include references to his own work in Raiders of the Lost Ark. However, the movie in question is not one you might expect the director of such hits like Jaws and Close Encounters of the Third Kind (two of the best '70s movies) to borrow from.
We all know the classic sight gag from Raiders when Ronald Lacey as Toht (the Nazi who gets his face melted at the end) takes out what appears to be a torture device that turns out to be a collapsible coat hanger. On the making-of featurette, Belloq actor Paul Freeman (who also went on to play Power Rangers villain Ivan Ooze) recalls how Spielberg previously used that same joke in 1941 - his World War II comedy that became his first critical misfire in 1979. Perhaps we can chalk it up as a good example of why trying again does not hurt.
Dan Aykroyd's Subtle Cameo In Temple Of Doom
One of the stars of 1941, along with his The Blue Brothers co-star John Belushi, is legendary former Saturday Night Live cast member Dan Aykroyd. The forgotten wartime comedy would be his first collaboration with Steven Spielberg, but not his last. Only some eagle-eyed viewers would recognize it, though.
In Indiana Jones and the Temple of Doom, as Indy, Willie, and Short Round arrive at an airport to take a plane out of China, they are greeted by a man named Weber, who says he arranged the transportation for them last minute. Portraying the brief role (hidden behind a fake mustache and a not-so-convincing British accent) is, indeed, Dan Aykroyd.
Pat Roach Appears In Each Of The First Three Indiana Jones Movies
Another person you may not have realized collaborated with Steven Spielberg on more than one occasion was the late Pat Roach. I actually would not hold it against you if you had never heard of the late actor before, unless you claimed to be a die-hard Indiana Jones fan, that is.
The English actor and former professional wrestler actually had two roles in Raiders of the Lost Ark, first appearing as "Giant Sherpa" in the scene at The Raven - the bar owned by Karen Allen's Marion Ravenwood - and, more memorably, as the large, Nazi mechanic who meets a bitter end by a German airplane's propeller. Pat Roach would return in Indiana Jones and the Temple of Doom as the chief guard of the Thuggee cult and also more briefly in Indiana Jones and the Last Crusade as a Gestapo agent whom Indy knocks unconscious on the zeppelin in a scene that, unfortunately, was left on the cutting room floor.
Whether or not we should be thankful that Pat Roach, who passed away in 2004, never had the chance to make a cameo in Indiana Jones and the Kingdom of the Crystal Skull is up to you. It actually would have given the polarizing fourth chapter from 2008, which is surprisingly lacking in notable Easter Eggs, a reason to be on the list. Who knows? Maybe Indiana Jones 5 director James Mangold could find some way to pay tribute to the larger-than-life franchise staple in some way with his upcoming installment.
Your Daily Blend of Entertainment News
Jason has been writing since he was able to pick up a washable marker, with which he wrote his debut illustrated children's story, later transitioning to a short-lived comic book series and (very) amateur filmmaking before finally settling on pursuing a career in writing about movies in lieu of making them. Look for his name in just about any article related to Batman.