How Eternals' Gemma Chan Feels About Playing A New MCU Character After Her Role In Captain Marvel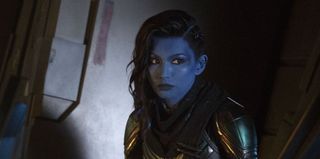 Many actors probably dream of appearing in an MCU movie or TV series. Even a small role can have a big impact on an actor's career, and getting Marvel screen time more or less cements his or her place in cinematic history. So it's a pretty big deal that Eternals' Gemma Chan was able to nab a second role in the MCU, following her appearance in Captain Marvel. The actress recently opened up about what it was like to return to the franchise in a new capacity.
As Sersi, a powerful empathetic Eternal, Gemma Chan is forging an exciting new chapter in her career. While she may have thought she left the MCU behind following her Captain Marvel stint, she ended up having a fateful meeting with Kevin Feige while promoting Crazy Rich Asians, which ultimately led to her return. The actress told Empire what it felt like to return to the Marvel Cinematic Universe in a different role via Eternals:
There's no denying that Chan's characters in the two MCU movies are radically different, and it seems her presence in both will be significantly different as well. In Captain Marvel, Gemma Chan played Minn-Erva, a villainous member of the Kree Starforce who died before the credits rolled. So, while her character was memorable, she wasn't a main player in the film.
While we don't definitively know the fate of Chan's Eternals character yet, Sersi is definitely fighting with the good guys this time around. She is also, according to Kevin Feige anyway, the lead character in the film (via Variety). In other words, she's going to be a much bigger deal. She could also feasibly be poised to reprise the role in future MCU films.
As fortunate as Gemma Chan feels to get a second chance at the MCU, she is also in rare company now. Of the hundreds of actors who have appeared in a Marvel movie, very few have been asked back to play a second role. She joins the likes of Chris Evans, who played the Human Torch in the Fantastic Four series before donning Captain America's shield, and Mahershala Ali, who will play Blade after portraying villain Cornell "Cottonmouth" Stokes on Luke Cage.
We'll get a chance to see how Gemma Chan embodies her new role when Eternals finally hits theaters on November 5, 2021.
Your Daily Blend of Entertainment News