Black Widow Isn't Out Yet, And I'm Already Exhausted By Marvel's 2021 Slate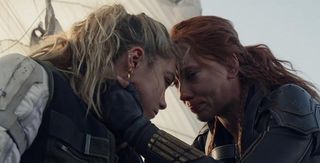 (Image credit: (Marvel))
Hey, we made it! Black Widow tickets are officially being sold and the first Marvel Cinematic Universe film in two years is coming in just two weeks. For Marvel fans like myself, sitting down to watch another film from this franchise finally will be a return to normalcy unlike any other. But as we reach the finish line this July, with the Phase Four film slate finally kicking off, I've found myself smack dab in the middle of 2021 and struggling to adjust to the influx in Marvel content we've been met with as a result of the Disney+ shows. I can't be alone in this, can I?
I should note that up to this point (with the exception of, I would say, three out of 23 films), I've followed the MCU to a T. I love seeing Marvel films in the theater opening weekend and I've been fully on board with the experience the Disney studio is selling, especially as they've become even more interconnected over the years. But coming out of what we've seen from Marvel thus far, I'm overwhelmed from the franchise with no room for a breather on site in the coming second half. Unless Black Widow absolutely blows my mind, I feel like I'll oddly be pushing through the MCU's 2021 slate. Let's talk about why.
Marvel On Disney+ Went Full Speed Ahead At The Top Of 2021
Now obviously a lot of what Marvel had planned with release order was switched around due to the COVID-19 pandemic. Black Widow, for example, was going to be the first MCU release since Spider-Man: Far From Home and arrive in summer 2020, but due to the situation with movie theaters, it is now coming out this summer, and the studio's streaming shows were pushed ahead before Scarlett Johansson's time in the spotlight. WandaVision became our official return to the franchise back in January, and it was a huge standout.
Everyone has their own opinion on WandaVision, but for me, I was absolutely hooked and it is one of my favorite Marvel projects. Every single week, I (and many people I know who don't write about media for a living) would wake up early and watch it the day it came out, and we'd get into heated conversations about what was going on, or just to rave about that week's episode. But at its core, the fandom did have higher expectations for WandaVision than it actually was. Doctor Strange didn't show up and no Multiverse of Madness or X-Men universe was opened up despite some winks and nods. The fandom went on full blast at the top of the year, with expectations through the roof.
Watching Marvel On Disney+ Weekly Gives The Experience Mundanity
WandaVision was the perfect first pick for introducing Disney+ content to the MCU because it had us guessing and coming back every week. But at the same time, it gave us a lot more Marvel to digest (nine episodes worth) than we've ever consumed at once. And after the long drought and so many projects announced that we were hungry for, the web of theories tripled as the show went on. And then, just two weeks after the finale of WandaVision, The Falcon and the Winter Soldier premiered.
I personally didn't have enough time to process and savor the experience of WandaVision, so keeping up with Falcon was less about me needing and wanting more Marvel, and more about staying on the same page as the fandom. I stopped waking up early to check it out and I was so fresh off loving WandaVision, I really didn't care about Falcon and Winter Soldier. And then, a little over a month later, now we're in the thick of Loki. There's no longer much to count down to because new Marvel content is available to view at our leisure almost always.
The Second Half Of 2021 Is Also A LOT
Ok, so if you're all caught up, we have seen two and a half Disney+ shows with half of the year on the books, and what is coming up is even more packed. On the movie side after Black Widow, Shang-Chi is arriving in September, then Eternal comes in November and Spider-Man: No Way Home releases in December. At the same time on Disney+, we're set to see TV shows for What If…?, Hawkeye and Ms. Marvel. If you're keeping track, that's TEN Marvel projects for 2021. We have something to watch from the studio almost every month of the year.
And having a Marvel catch-up year won't just be isolated to 2021. A similar model is set to continue with the 2022 slate as well. Remember 'Star Wars fatigue' when The Last Jedi and Solo: A Star Wars Story opened five months apart from each other? My Spidey senses are already catching wind of a bit of Marvel fatigue, and many Marvel fans know they can't just shelve these releases for when they feel like it. Sometimes the same night these projects go out in the world, people are getting into spoiler talk.
Marvel's Pacing Could Become An Issue Moving Forward
I can't think of any other franchise that has saturated this much content on its viewers. And it's a valid conversation to start because I believe Disney's new Marvel model may affect things one way or another. It's no longer quite as easy to be a Marvel fan as it once was. If you want to follow the franchise, showing up for two to three movies a year isn't enough anymore. There may be more picking and choosing from Marvel fans in the interest of time. Some audiences may sit out Black Widow because Loki was already on that week.
It's great to see Marvel doing more with its expansive universe, but I'm worried the franchise will become less of an event to fans if it's already a year-round occasion. It's also more difficult for us to be surprised or impressed by its saga when we're consistently being fed with more from the studio and against an already overwhelmed comic book movie world.
Ok, what do you think? Are you exhausted over Marvel's incredible amount of projects, or are you all caught up and fully excited and ready for what's to come? Have you given up? Vote in our poll below and keep up with Marvel's film slate and upcoming MCU Disney+ shows here on CinemaBlend.
This poll is no longer available.
YA genre tribute. Horror May Queen. Word webslinger. All her writing should be read in Sarah Connor's Terminator 2 voice over.
Your Daily Blend of Entertainment News
Thank you for signing up to CinemaBlend. You will receive a verification email shortly.
There was a problem. Please refresh the page and try again.