Black Widow Reactions Are In, Here's What People Are Saying About Scarlett Johansson's Marvel Movie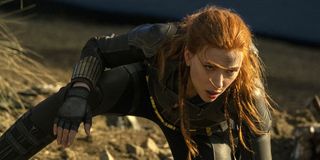 Phase Four of the MCU is already underway with the Disney+ series WandaVision, The Falcon And The Winter Soldier, and Loki, but we've yet to see the first film in phase four. That will soon change, however, as the highly anticipated Black Widow is finally almost here! Black Widow finally gets her own movie, with Scarlett Johansson reprising her role as the titular character, of course, alongside Florence Pugh, David Harbour, O-T Fagbenle, Rachel Weisz, William Hurt, and Ray Winstone. Following the events of Captain America: Civil War, this next installment in the MCU sees Natasha Romanoff on the run and forced to confront her history as a spy and a dangerous conspiracy with ties to her past.
We haven't seen a Marvel Cinematic Universe film since summer of 2019, so fans are eagerly awaiting Black Widow (and those who saw test screenings are already comparing it to another MCU installment). After many delays due to the Covid-19 pandemic, Johansson's movie will finally arrive on July 9 in theaters and simultaneously on Disney+ with Premier Access. Some critics have already seen early screenings, and they're sharing their thoughts on social media, so let's take a look.
Our very own Sean O'Connell is absolutely singing Black Widow's praises. He applauded the pulse-racing action, but he also appreciated the deep dive into Natasha's character and the heart of the film. For those of you who might be worried that this particular movie might just feel like a placeholder following Nat's fate in Avengers: Endgame, O'Connell says that there's no reason to be concerned. He also points out that there's a "knockout" end credits scene, which should get all of us Marvel fans pumped.
Critics choice member Grace Randolph pointed out that though there is a lot of talking in Black Widow, the action sequences are incredible. She also appreciated the "raw" and real aspect of the movie, and commended Pugh's performance as Yelena Belova. Randolph said:
Alisha Grauso of ScreenRant also enjoyed Pugh's Yelena, while also complimenting the fight sequences and comparing them to John Wick-style action. She praised the heart of the story, and appreciated the poignant story about "family and how the world treats girls." Grauso said:
Brandon Davis from ComicBook.com considers Black Widow one of Marvel's best solo films, and that is high praise! He applauded Johansson's performance and noted that she finally got to "pour everything into the role." Davis also loved the emotional aspect, the badass action, and the surprises (hmm, I cannot wait to see this movie). He said:
Courtney Howard, writer at Variety, also absolutely loved the spy thriller, calling it "excellent." She praised Johansson and Pugh, like we've seen in other critics tweets, as well as David Harbour. She also complemented the thrilling action (I mean, we've come to expect that from MCU films!) and Shortland's beautifully balanced direction. Howard said:
Umberto Gonzales from The Wrap argues that the action-packed and highly entertaining Black Widow is worth seeing on the biggest screen possible (if you feel safe to do so, that is). He was so glad to finally get a long-overdue look at our favorite Russian spy Natasha's backstory, and complemented the "thrilling" set pieces and performances.
ScreenRant's Rob Keyes enjoyed the superhero movie overall, complementing the lead performances (no surprise there) and the twists and turns that the story takes. He thought a few scenes were a little confusing, but still enjoyed the flick overall. He also noted that viewers should definitely stay after the credits, which is pretty much second nature for us diehard MCU fans by this point!
People mostly seem to be loving Black Widow! You'll be able to form your own opinion soon when the movie releases on July 9 in theaters and on Disney+.
After you get your tickets to Black Widow (or preorder Premier Access to it on Disney+), check out what other films are releasing this summer.
Your Daily Blend of Entertainment News