That Time Salma Hayek Slapped Ryan Reynolds Exactly Where She Was Told Not To On The Hitman's Wife's Bodyguard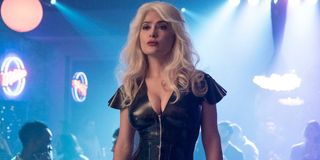 Salma Hayek has always taken a somewhat unconventional approach to her career. The actress has taken on bold roles in films, like the upcoming Eternals and hasn't held back when it comes to her comedic prowess or her willingness to give everything she has on screen. That enthusiasm for her craft may have extended a bit too far, though, on the set of the recent hit sequel The Hitman's Wife's Bodyguard. The actress slapped co-star Ryan Reynolds in the one place she was told not to slap him -- and it sounds like it's a pretty funny story.
While she appeared as the brash and somewhat uneven Sofia Kincaid in the 2017 The Hitman's Bodyguard, Salma Hayek took on a bigger role in the action-comedy sequel. Her character plays a much more central role to the film's story, which sees her starring alongside Ryan Reynolds and Samuel L. Jackson once again. That means she has more screen time, and more of a chance to get in on the action.
That's exciting news for Hayek and her fans -- but it did pose a small problem during production. Salma Hayek recently revealed that while filming The Hitman's Wife's Bodyguard, she may have gotten a little overzealous when it came to some of her hand-to-hand scenes with Ryan Reynolds (via PopCulture.com):
Okay, so it sounds like Hayek may have done some real damage to Reynolds -- but it was more a product of getting caught up in the scene than any real intention to do harm. The end result of her enthusiasm for the role was probably worth it, too. While the movie itself has had lackluster reviews, fans have been on board for the latest installment, and Hayek has earned strong reviews for her performance in The Hitman's Wife's Bodyguard.
Also, it doesn't sound like her on-screen antics caused any long-lasting damage to her professional relationships with her co-stars. She gushed about Samuel L. Jackson and Ryan Reynolds to PopCulture.com, insisting, "I love the guys; I love Sam and Ryan." She even revealed that The Hitman's Wife's Bodyguard's director, Patrick Hughes, encouraged the cast to improvise many of their scenes. So really, by improvising the finer details of her action scenes, she was just doing her job, right?
The Hitman's Wife's Bodyguard topped the box office after it hit theaters on June 16, dethroning A Quiet Place II. Maybe the film's success will be enough to greenlight a third chapter in the series -- and another chance for Hayek to have fun with (but hopefully not maim) her beloved co-stars.
Your Daily Blend of Entertainment News
Thank you for signing up to CinemaBlend. You will receive a verification email shortly.
There was a problem. Please refresh the page and try again.