The Hitman's Wife's Bodyguard Ending Explained: What Fresh Hell Awaits Michael Bryce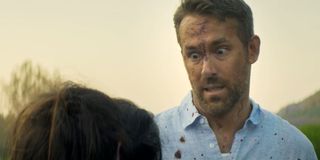 Warning: spoilers for The Hitman's Wife's Bodyguard are in play. If you haven't seen the film yet, and want to remain unspoiled, then turn around and flee while you still can.
As The Hitman's Wife's Bodyguard draws to a close, another action packed spectacle wraps up on the big screen. Ryan Reynolds, Samuel L. Jackson, and Salma Hayek find themselves at the end of a huge adventure, everyone's learned a little more about themselves, and some pretty awesome explosions take place. Oh, and the entirety of Europe is now in their debt, as some pretty huge events were prevented during The Hitman's Wife's Bodyguard's ending.
It's the stuff you'd expect from an off-the-rails action-comedy that takes the top spot at the box office on its opening weekend. But even with that in mind, there's going to be a ton of spoilers as to how it all goes down. So if you want to see The Hitman's Wife's Bodyguard totally unspoiled, jump out of here after this point, because we're about to dive in deep. If you're still here, let's go into just what happens in Michael Bryce's latest round of punishment.
What Happens At The End of The Hitman's Wife's Bodyguard?
Sofia Kincaid (Salma Hayek) is kidnapped by former lover/current comedic Bond villain Aristotle Papadopoulos (Antonio Banderas). With a technological scheme that will plunge Europe into a new dark age, restoring Greece as the cradle of civilization, it looks like Aristotle is about to succeed in his evil quest in The HItman's Wife's Bodyguard. Aboard his private yacht, and hidden behind waves of security orchestrated by Michael Bryce's surprisingly villainous stepfather (Morgan Freeman), what could possibly touch a villain like him?
Well, as one would expect, Michael (Ryan Reynolds) and Darius Kincaid (Samuel L. Jackson) aren't too far behind. Knowing the inner workings of his stepfather's mind, the younger Bryce helps Darius navigate those waves of security, with the two heroes making their way on to Aristotle's floating stronghold. A huge fight scene integrating several confrontations ensues, and the result is the villains dying and the yacht exploding.
How Michael, Sonia, And Marcus Saved Europe
So how exactly do Michael Bryce and the Kincaids save Europe? Pure ass kicking is the answer, and there's a lot of ass kicked in The Hitman's Wife's Bodyguard. Ultimately, Sonia, Darius, and Michael all get to deliver someone their last rites, and Europe's power grid is protected. If it wasn't for their efforts, the story would have played out very differently.
As Aristotle Papadopoulos' grand plan is to override Europe's power grids, crashing the continent into darkness, he needed to be able to drill into an underwater junction box that will allow him to do so. With a special diamond tipped drill that also acts as a transmitter, all that needs to happen is for the right malicious code to be downloaded. But seeing as Michael Bryce killed his evil stepfather, and the yacht with all this equipment exploded, our Hitman's Wife's Bodyguard heroes actually saved Europe.
Sonia And Darius Kincaid Become Parents… Sort Of
Another recurring thread of The Hitman's Wife's Bodyguard sees Sofia and Darius trying to start a family of their own. With their romance rekindled after The Hitman's Bodyguard, they have been trying everything to have a baby; and I mean everything. One tactic actually works, as Sonia and Darius settle on adopting a manchild of their own, and he unwittingly signs the papers to make it all happen.
Thinking he's going to get his precious AAA accreditation back, Michael Bryce quickly signs the papers that Sofia Kincaid presents him with. In another lesson of reading the fine print, Michael is then told that he's been adopted by the man who caused him to lose his license, and the woman who's been knocking him around throughout The Hitman's Wife's Bodyguard. And as an added traumatic bonus, Michael Bryce even gets to sail a boat... which unfortunately includes a view of his new adopted parents having sex on the boat they're supposed to stay on for 48 hours.
Will Michael Bryce Ever Get His AAA Accreditation Back?
Throughout The Hitman's Bodyguard movies, the huge motivation for Ryan Reynolds' Michael Bryce has been to get his AAA accreditation back. His largest source of pride, it's been his Achilles' heel when getting him to agree to participate in the action. Much as one would expect, The Hitman's Wife's Bodyguard hasn't awarded him that status; and it'll probably evade him for as long as there are sequels to be made.
Franchise director Patrick Hughes has gone on the record as saying that the key to The Hitman's Wife's Bodyguard, and any other entry in this potentially continuing franchise, is the suffering of Michael Bryce. If he were to ever get what he wanted, it'd be game over, and everyone would have to go home. So if you're counting on future installments to this series, you're going to have to sacrifice even more of Michael Bryce's dignity and sanity.
Who Could Join A Potential Sequel To The Hitman's Wife's Bodyguard?
Part of the fun with a sequel to The Hitman's Wife's Bodyguard is the newcomers added to the cast. With Gary Oldman and Antonio Banderas acting as the villains for the first two films, and Morgan Freeman being added for some extra spice as a secret baddie, you'd have to wonder if there's anything else up this franchise's proverbial sleeve for a third go-round. As a matter of fact, it does.
Both Salma Hayek and director Patrick Hughes have teased that, should there be a continuation after The Hitman's Wife's Bodyguard, there is someone that they've got in mind to join the cast. However that person, and the story that brings them into the fold, is currently under wraps. So we're all just going to have to be patient and wait to see who makes life a living hell for Ryan Reynolds, should the time come for such an announcement.
Whoever steps into the world of The Hitman's Wife's Bodyguard next is going to join the fresh hell that awaits Reynolds' Michael Bryce. He will know no peace or joy until the adventure has concluded, and now with Sofia and Darius Kincaid as his adopted parents, Michael's only going to see more of that pain coming from the homefront. If you're looking to relive the madness, or somehow read this rundown before seeing the film for yourself, you can currently see The Hitman's Wife's Bodyguard in a theater near you. Also, don't forget to take a look at 2021's new movie releases, to see what's heading to the movies in the coming week.
Your Daily Blend of Entertainment News
Senior Movies Contributor
CinemaBlend's James Bond (expert). Also versed in Large Scale Aggressors, time travel, and Guillermo del Toro. He fights for The User.