The Hitman's Wife's Bodyguard: What Fans Are Saying About The Ryan Reynolds Movie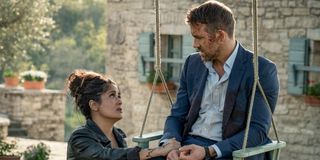 As fans have been enjoying The Hitman's Wife's Bodyguard in its current theatrical release, there's naturally going to be a lot of talk about feelings surrounding various aspects of the film. Naturally, with a huge Ryan Reynolds sequel in theaters, subjects worth discussing will pop up, and the internet has absolutely responded to some interesting points surrounding the film. Everything from Salma Hayek to the film's title, and even an interesting bit of trivia, is fair game; so let's see what fans are saying about The Hitman's Wife's Bodyguard.
The Hitman's Wife's Bodyguard Is Even More Outrageous Than The First Film
On the Venn diagram of comedy sequels and action sequels, one of the key points of overlap is going bigger and harder. The Hitman's Wife's Bodyguard does just that, and fans have certainly noted that fact in their reactions. As you'll see in our first tweet, the insanity is absolutely worth the ride in the end:
Yes, The Hitman's Wife's Bodyguard is a movie so funny, it's going to make you swear in disbelief when thinking about what it's done. Amping up the comedy and throwing in some James Bond-style action is apparently the key to making fans sound like they're improving dialogue with Samuel L. Jackson. Then again, the internet has used more colorful words on a regular basis, so that could just be the world talking. Still, it's led to this other creative use of profanity:
Bigger sometimes is better, or at the very least enough to please the fans. But there's another upgrade that helped The Hitman's Wife's Bodyguard catch people's attention; as if putting Ryan Reynolds through the ringer wasn't enough. It's all thanks to one of the returning characters the film welcomed back into the fold, as Salma Hayek has gotten a lot of attention for her latest turn as the "Hitman's Wife" of the title.
Salma Hayek's Upgraded Role Is Well Worth The Sequel
Even in her more supporting role in The Hitman's Bodyguard, Salma Hayek's Sofia Kincaid was a force of nature to behold. So naturally, when director Patrick Hughes thought of how he and his writers would want to up the ante, it was a natural decision to make Sofia a crucial part of the team. It's a selling point that keeps on giving, as you'll see below:
It makes for a simple logline when you think about it. "See Salma Hayek swearing her head off, in The Hitman's Wife's Bodyguard." That's plenty of tickets sold for a Friday night showing right there. It certainly seems to be the case for famed author John Scalzi, as he saw the benefit of that aspect. Though there was a bit of added incentive, as you'll see in the story he told about bringing his wife along for the ride:
So The Hitman's Wife's Bodyguard has a harder and funnier approach to the franchise, and it also has Salma Hayek taking the world by storm. What else could this movie use to boost its profile? How about becoming a piece of Hollywood historical trivia? Yes, this movie actually accomplished something that the dream factory has been trying to do for some time by casting a pair of venerable actors in the same film for the first time.
Technically, The Hitman's Wife's Bodyguard Made An Interesting Bit Of History
How in the world have Morgan Freeman and Samuel L. Jackson never worked together before? It's a question that's now being asked quite often, as The Hitman's Wife's Bodyguard has somehow corrected this error in cinema, and to great effect. Trying to wrap your head around it would inspire similar thoughts to the one you're about to see below:
It truly is amazing how it took The Hitman's Wife's Bodyguard to pair up such esteemed actors, especially when they use words like "motherfucker" so brilliantly And yes, Morgan Freeman has dabbled in Samuel L. Jackson's preferred profanity. Which only causes people to question this occurrence even more, and leads one to believe that Freeman and Jackson should work together more often. Think about that as you read the next shocked reaction to this huge deal:
So The Hitman's Wife's Bodyguard's checklist contains bigger laughs, Salma Hayek wrecking shop and Morgan Freeman finally sharing a scene with Samuel L. Jackson. The longer this list seems to go on, the more ridiculously fun it sounds. And apparently, it wouldn't be complete without poking some fun at the ever expanding title scheme this franchise is going for.
Any Potential Sequel To The Hitman's Wife's Bodyguard Is Going To Be Impossible To Title
Going into The Hitman's Wife's Bodyguard, after seeing audiences react so well to The Hitman's Bodyguard, one has to wonder where it all goes next? With an ending that leaves some interesting thematic ties to be completed, there is a question of how outrageous the title will be in a potential threequel. Leave it to the internet to come up with something wild, like this:
Considering the family dynamic that's at work in The Hitman's Wife's Bodyguard, and an unspecified role being kept in mind for a third film, that doesn't seem all too far off. Though without knowing who's on deck, there's no limit to who Ryan Reynolds' Michael Bryce will have to guard next. With that creative license in the air, it's only going to grow more ridiculous:
The Hitman's Wife's Bodyguard truly is an inspiring experience, or at least that's what it looks like when you check out the fan reactions. Though there are, of course, detractors who aren't exactly sold on the sequel's charms; plus there's questions that both sides of the divide want answers to. Like, "Do we really buy Antonio Banderas as a Greek shipping tycoon?" Check out The Hitman's Wife's Bodyguard for yourself in theaters, and don't be afraid to ask the big questions while looking at our 2021 release schedule.
Your Daily Blend of Entertainment News
Senior Movies Contributor
CinemaBlend's James Bond (expert). Also versed in Large Scale Aggressors, time travel, and Guillermo del Toro. He fights for The User.