Star Wars' Mark Hamill Shares A+ Story Behind His Iconic Empire Strikes Back Scene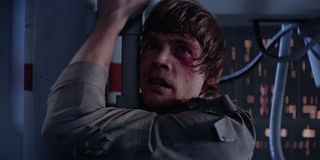 Talk to any Star Wars fan, and most will rank 1980's The Empire Strikes Back as one of the best movies in the franchise, if not have it placed at the top of the list. There's a lot to enjoy in the sequel to 1977's A New Hope, but pop culturally speaking, The Empire Strikes Back is still arguably best known for introducing Yoda and delivering the shocking twist that Darth Vader was Luke Skywalker's father. Regarding the latter, Mark Hamill recently shared a great story about what it was like shooting the scene where Luke learned the truth.
Luke Skywalker understandably didn't take the news well that Darth Vader, Emperor Palatine's right-hand man and brutal enforcer for the Empire, was actually his father, who he believed had died. As such, he exclaimed "That's not true. That's impossible!" before shouting a long "NO!" upon hearing the revelation, but in real life, it turns out Mark Hamill couldn't hear anything being said on the set. Here's what the actor said on Twitter:
Remember that the Darth Vader twist in The Empire Strikes Back happened within Cloud City's central air shaft, with Luke Skywalker, who'd lost his hand just seconds before, precariously balanced over that gigantic pit. So wind machines needed to be on full blast to properly set the scene, but the downside was that Hamill (who did indeed vocally prepare ahead of time to deliver those emotionally-charged lines) couldn't hear anything being said. Had David Prowse, who physically portrayed Darth Vader in the Original Trilogy days, not been making those hand gestures, Hamill would have had a lot more trouble following along with where they were in the scene.
Ultimately though, as Mark Hamill noted, both Luke Skywalker and Darth Vader's lines in that Empire Strikes Back scene were redone later on, which isn't surprising considering that ADR is a common practice in filmmaking. It's also worth mentioning that the lines David Prowse said to Hamill on set that day weren't the same ones heard in The Empire Strikes Back itself. Vader being Luke's father was kept secret by Hamill, George Lucas and director Irvin Kershner, with Hamill only being told moments before the scene was shot. Instead, Prowse was told to say that Obi-Wan Kenobi was Luke's father, so he and the rest of the cast and crew didn't learn the truth until the movie came out.
This is among the examples of Mark Hamill providing insight about the Star Wars franchise on social media in recent months. He's also weighed in on the milk debate (again), revealed that studio executives suggested Chewbacca wear a pair of lederhosen in A New Hope and shared that George Lucas wanted a specific Looney Tunes cartoon to play before the first Star Wars movie. After decades away from the role, Hamill reprised Luke Skywalker in all three Sequel Trilogy movies and The Mandalorian Season 2 finale.
While we wait for Mark Hamill to drop more interesting bits of Star Wars trivia on social media, keep your eyes locked on CinemaBlend for the latest and greatest news about upcoming Star Wars movies and TV shows.
Your Daily Blend of Entertainment News
Connoisseur of Marvel, DC, Star Wars, John Wick, MonsterVerse and Doctor Who lore. He's aware he looks like Harry Potter and Clark Kent.