Disney Posted A Toy Story 3 Ending Meme, And Fans Weren't Happy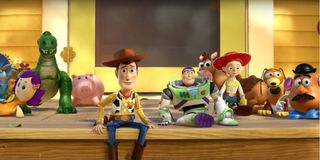 The Toy Story franchise is famous for a lot of things, such as groundbreaking animation, a winsome Randy Newman song and a penchant for making grown adults cry like little babies while the actual kids are wondering why everyone is so upset. This was especially the case when it came to the ending of Toy Story 3, when Andy left for college and entrusted his toys to his tiny neighbor Bonnie. Although the movie came out way back in 2010, the wound is clearly still fresh. Disney recently posted a Toy Story 3 ending meme, and the Internet was not happy.
The ending of Toy Story 3 was controversial when the movie first came out. The toys saying good-bye to Andy? Wasn't that the opposite of the first two movies? Woody (Tom Hanks) and Buzz Lightyear (Tim Allen) spend the entire first film trying to get back home. But Andy's too old for them now - a fact that Disney reminded everyone of when it posted a cute rendering of the Toy Story 3 ending on Twitter. You can see it here:
While the movie is still amazing after over a decade, this moment still smarts. How do we know? Because Twitter users wasted no time informing the entertainment giant how they felt. One of the most liked responses echoed a current meme:
Violence, indeed. Who at Disney decided it was okay to remind everyone of that horrifying trash sequence when viewers thought their beloved toys were going to burn to a fiery crisp? It might have been whoever wrote the ending to Up. Talk about cueing the waterworks. Speaking of tears, a number of users seem to have shed them.
No one plans on crying, but the ending of Toy Story 3 doesn't care about your plans. The ending of Toy Story 3 will reduce even the most jaded grown-up to a weeping mess, as evidenced by one particular post:
Ironically, the current kiddos don't seem to get it. As one user pointed out, kids have a somewhat different response to the film than adults do:
Some Twitter users took the opportunity to denounce the fourth Toy Story film. Based on the messages, they seem to wish the franchise had stopped at Toy Story 3:
I think Forky was a spork, but that's neither here nor there. Whether you think Disney's Toy Story franchise should have ended with the third film or you adore Toy Story 4, we can all agree on one thing: no one is immune to the ending of Toy Story 3. Now, if you'll excuse me, I need to find some tissues.
Your Daily Blend of Entertainment News
Actor, singer, and occasional dancer. Likes: fashion, books, old buildings. Dislikes: cilantro, the NJ Turnpike, sneaker wedges.