Megan Fox Says She Loves Being In 'Blockbusters,' But Would She Do A Star Wars Movie?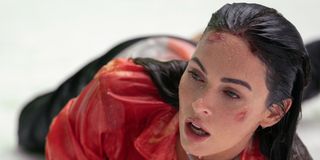 Megan Fox has been promoting her new horror action film Till Death and, as you would expect, the former Transformers star has been asked about a number of topics, including her feelings toward big blockbusters, which is mostly due to her experience with them. Transformers turned Fox, who had been acting prior to joining the film series, into a household name but gave her an image that was hard to shake during her career. Of course, there are still plenty of other blockbuster franchises out there, including the Star Wars saga, but would Fox be willing to enter the galaxy far, far away?
Actors can have varying feelings about blockbusters. Some prefer the intensity that comes with making massive movies, while others prefer to work within smaller indie films. So with so many blockbuster credits under her belt, how does Megan Fox feel about the big-budget films? Here's what she had to say to Yahoo Entertainment:
So Megan Fox says she actually prefers making blockbusters as opposed to some of the smaller films she's made the past several years. Fox even went as far as to say the big blockbuster movies make her feel at home while she's working on them. But considering Fox's body of work consists of massive properties like Teenage Mutant Ninja Turtles, it honestly makes sense that the actress feels a level of comfort with those kinds of projects. During the same interview, Fox went into detail on mulling parts in other massive franchises, including Star Wars:
Megan Fox explains that she is a fan of big movies like The Hobbit and would consider starring in films like that but that it would ruin her experience as a fan when watching because it ruins the magic. And based on her comments, the same is also true for a franchise like Star Wars. While some might be confused by Fox's conflicted thoughts on the subject of blockbusters, her logic does make sense. Being a fan of a franchise and actually starring in said franchise are two very different things and, whether your experience is positive or negative, your view of said franchise will be changed.
Megan Fox has been linked to different blockbuster characters for years now, including DC Comics icon Wonder Woman. Still, those rumors never materialized and, as of right now, though she did still join the DC Comics family through her role in 2010's Jonah Hex. Hopefully, we'll see Fox, who is currently experience a sort of renaissance, in another big-budget blockbuster sooner rather than later.
Megan Fox's Till Death is about a wife stuck in a marriage who finds herself waking up one morning at a lake house, where she is shackled to her husband's corpse. The premise is intriguing, and the film seems like a good time for horror fans. Check it out in theaters now and, for more on movies coming out in 2021, check out our movie release schedule.
Your Daily Blend of Entertainment News
Movie and TV obsessive. A good Heist movie is the way to my heart. Enjoyer of everything from Marvel Movies to Rom-coms.