Michael B. Jordan's Vacation Posts With Lori Harvey Have People Rolling Out The Steve Harvey Mustache Comparisons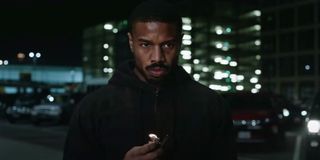 Sexiest Man Alive Michael B. Jordan and Lori Harvey have had a bit of a whirlwind romance over the past year. The two have been together since at least January (though were rumored for months prior to that). Since they went public, they've enjoyed sharing romantic gestures and the occasional PDA. That's what happened recently during a Fourth of July getaway, only this time fans were not distracted by the couple's cuteness. Instead, they could not believe how much Michael B. Jordan's 'stache really resembles Steve Harvey's famous whiskers.
Michael B. Jordan's facial hair is not exactly new nor as iconic as Steve Harvey's at this point, but a recent look at his facial hair from a certain angle is really starting to garner comparison's to his girlfriend's famous dad. In fact, but after Lori Harvey released a video to her Instagram Stories, fans of the couple can't stop talking about the mustache. From a certain angle, I can kind of see their point.
Of course, when something like this happens on the Internet, fans tend to have thoughts and some of them don't seem to be particularly pleased that Michael B. Jordan has begun sculpting a mustache in recent weeks.
The move seems like it might almost be a friendly facial hair rivalry with Lori Harvey's famous parent, as a short time back Michael B. Jordan had a very intriguing conversation with Jimmy Kimmel on Jimmy Kimmel Live about said facial hair. During the convo, Kimmel actually hedged that Jordan was going for a "beyond Steve Harvel-level mustache." To which, the actor at the time responded, "Yes, I'm actually -- I want to challenge him to a mustache-off." The fans have not forgotten this moment.
But even knowing there's a little bit of a rivalry there does not help certain comparisons go away for some fans. In fact, one "can't unsee it."
While Lori Harvey's Instagram Stories post has faded away, the Internet is forever and one fan posted the video, which to be fair, does not ALWAYS make him look like Steve Harvey, but certainly does in the aforementioned shot. Be sure to take a look and see for yourself.
Michael B. Jordan did have even thicker facial hair at one point during the pandemic. He also told Jimmy Kimmel he'd never really had the time to grow something like that before, as he'd need to get it "groomed and manicured to do press or shoot a character." It was a grand experiment that he even said he named Murphy. I guess some people name their cars. Others name their facial hair. Gotta own what you're proud of!
Meanwhile, in real life, Michael B. Jordan and Steve Harvey seem to get along, even with the Without Remorse star dating his daughter. Steve Harvey has joked he tried to find faults in Jordan in the past, telling Ellen it didn't stick as he realized the big screen actor was "a good guy." When Michael B. Jordan and Lori Harvey First started dating, her famous dad actually had a pretty amusing response to their coupledom, noting he had "my eye on him" like any good dad would. But it seems as if things have settled in between the two, although I will be sure to keep everyone up to date if a mustache "feud" comes out of all this fan brouhaha. We love to see it.
Amazing Race & Top Chef superfan with a pinch of Disney fairy dust thrown in. Theme park junkie. If you've created a rom-com I've probably watched it.
Your Daily Blend of Entertainment News
Thank you for signing up to CinemaBlend. You will receive a verification email shortly.
There was a problem. Please refresh the page and try again.