Steve Harvey Gives An A+ Response To Michael B. Jordan Dating His Daughter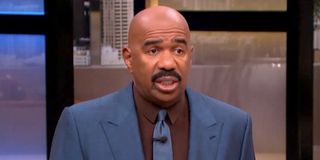 Every girl dad dreads the day their daughter starts dating, but it may be a little more daunting when that daughter comes home and says her new boyfriend happens to have been awarded People's Sexiest Man Alive title. That is Steve Harvey's new reality, as his daughter, Lori, is now dating Black Panther's Michael B. Jordan. While the Family Feud host may have that sick feeling dads get when their daughter has another man in their life, he seems to be holding it together pretty well. In fact, his response to the pairing is probably the best Michael B. Jordan could hope for, considering his new girlfriend's dad could easily put him on blast.
Steve Harvey, being the well known TV personality that he is, used his own talk show to share his thoughts on his daughter Lori dating award-winning actor Michael B. Jordan. Harvey said that although he does like and approve of Jordan, there is a piece of him that will always be ready to hate him if need be. In his own words:
Is it a little harsh? I mean, yeah. Steve Harvey is known as a man who likes to keep it real, and he would be lying if he were to say he was wholly won over by Michael B. Jordan's charm. Like any protective father, he's going to want to make sure his daughter is taken care of in the long term, and the new couple have only been official for a couple weeks.
Considering how new the relationship is, Steve Harvey giving any semblance of approval could be considered a win for Michael B. Jordan. It's a win that comes with a warning, though. In the same segment of The Steve Harvey Morning Show, Harvey makes sure to humble Jordan. He says that when it comes to them, Jordan's title of Sexiest Man Alive doesn't mean anything, and his approval rating with Harvey can change at a flip of a switch. Here it is in Harvey's own words:
While Lori Harvey is a stunner and potentially having Steve Harvey as an in law would make family get-togethers insanely comedic experiences, Michael B. Jordan just may be sweating his position now. No one wants to be on Steve Harvey's bad side. However, Harvey seems to be a reasonable man and, if Jordan is as gentlemanly as he appears, he should have nothing to worry about.
We'll see how this sweet and funny love affair continues to progress. And of course, aside from his personal relationship, Michael B. Jordan is working on a number the future projects that you can look forward to!