What F9's Jordana Brewster Is Hoping To See In The Final Two Fast And Furious Movies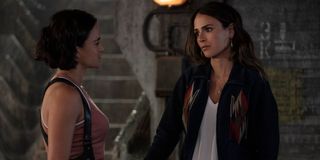 F9 has been had a very successful run during the ongoing pandemic, and the cast, including Tyrese Gibson and Ludacris, has been celebrating the worldwide support from fans of the franchise. The movie sets up so much for the franchise's future and the possible spin-offs fans are hoping to see. Family is always the most important thing in Fast movies but, as the family grows and changes, people can get left on the sidelines. Jordana Brewster has felt a bit of this and, now, she's explained what she wants for her character in the final two Fast and Furious movies.
Jordana Brewster's Mia Toretto has been a mainstay in the Fast franchise since its inception. She has played a major role in how the franchise has reinvented itself over the years, yet it's hard to deny that she has been relegated to the sidelines in some ways. When it comes to what she wants for Mia in the final movies of the Fast saga, Brewster told Looper:
Jordana Brewster wants more action in the final two Fast and Furious movies, saying she wants Mia to be doing more and more. It's definitely true that Brester's character had to take a back seat in Fast 6 and Furious 7. Most would probably agree with Brewster's sentiments, and her performance in F9 only backs up her case even more. She goes on to say:
On the surface, the addition of John Cena's Jakob does give the Fast franchise another big star, but it's also true that it does open the door for more prime material for Mia. Family is the most important theme in the franchise, and exploring those dynamics should be vital, especially as the main film series prepares to end.
There are, however, still challenges with keeping Mia in the game. When Paul Walker's Brian was retired after his death, it became harder to keep Mia, the character's on-screen spouse, in the story. So the Fast franchise has to find a creative way to keep Mia going on these dangerous missions when Brian is canonically staying out of the action.
Having played Mia for 20 years, Jordana Brewster seems to have gained some great perspective on things, just as her on-screen brother, Vin Diesel, has about fatherhood. Aside from her own character, Brewster has also been lobbying for James Bond stars and for important characters to make their return to the series before it ends. With so many great suggestions on her end, let's hope that Brewster at least gets a few of the things on her wish list so that the final two movies in the Fast and Furious series can be the best that they can be.
Your Daily Blend of Entertainment News
Movie and TV obsessive. A good Heist movie is the way to my heart. Enjoyer of everything from Marvel Movies to Rom-coms.