Jordana Brewster Wants One OG Fast And Furious Character To Return, And I'm Here For It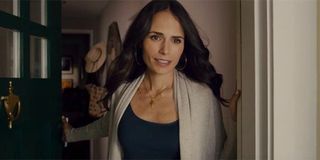 F9 finally raced into theaters this weekend, breaking a pandemic box office record and proving that movie theaters are almost all the way back. F9 sees the return of Han after his on-screen death in Fast 6, proving that if you are cool enough, you can never really die in the Fast and Furious universe. There are a few really interesting characters from older movies that fans would like to see return to the franchise. Now, F9's Jordana Brewster has revealed the OG character she wants back to the franchise and I'm here for it.
Fast and Furious is a movie franchise that now spans two decades and has gone through multiple transitions into what it has become today. 2 Fast 2 Furious seems so different than where the franchise is today. Still, the movie's DNA has definitely influenced the franchise, and it gave us one of its best characters in Roman Pearce (Tyrese Gibson). It also gave us the character Jordana Brewster told Looper she'd like to see on the big screen again:
Jordana Brewster thinks it would be a good idea to bring Eva Mendes back into the fold. Brewster recognizes how the films have played with the timelines and makes sure everything is connected even though the movies can span decades. Honestly, it's hard to disagree with the idea of bringing back Mendes' Monica Fuentes.
Monica Fuentes was the undercover FBI agent that worked with Brian O'Conner (Paul Walker) and Roman to bring down crime boss Carter Verone (Cole Hauser). Monica also was Brian's love interest, and the two were presumably together for a time after 2 Fast. However, that relationship was eventually dropped as if it never happened as the series started another soft reboot with the third installment, Tokyo Drift. But Monica did appear in the mid-credits scene of Fast 5 where she hands Luke Hobbs (Dwayne Johnson) a file revealing that Letty Ortiz is still alive.
The Fast Saga is gearing up for the conclusion of the main series and, hopefully, we'll see Eva Mendes back, even if it's just to come in and wink at the audience. Anything is possible, even if it means getting Eva Mendes to jump back into the acting game for a bit.
There's a lot to consider with the future of this franchise. F9's ending sets up the next two movies, and its end-credits scene raises many questions moving forward. There's even a possibility Dwayne Johnson and Jason Statham return for Fast 10. But whatever direction the franchise goes, let's hope the producers consider ideas from franchise vets like Jordan Brewster, Tyrese Gibson and Ludacris.
Movie and TV obsessive. A good Heist movie is the way to my heart. Enjoyer of everything from Marvel Movies to Rom-coms.
Your Daily Blend of Entertainment News
Thank you for signing up to CinemaBlend. You will receive a verification email shortly.
There was a problem. Please refresh the page and try again.