Quentin Tarantino Shares Honest Thoughts On Current Movie Releases And The Reality He Calls 'Depressing'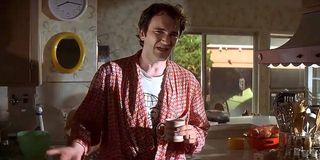 A lot of Hollywood names have given their thoughts on the new ways films have been coming out since the pandemic, and for the most part, they're not loving it. Big time director Quentin Tarantino seems to be thinking along the same lines, having some honest thoughts about current movies being released to streaming. Tarantino seems to be hit pretty hard by film lovers' new reality.
On an episode of CinemaBlend's ReelBlend podcast, Kill Bill director Quentin Tarantino sat down with its host at the launch of his novelization of his most recent film, Once Upon a Time in Hollywood. Tarantino spoke about the way films are released to streaming nowadays, calling it "depressing." He explained how lucky he was to have released his most recent film right before this became out new norm. Here are the words straight from Tarantino's mouth:
During this exclusive interview, Tarantino talked about working so diligently on a film for years, the anticipation of open weekend at the box office and how the new reality of films going straight to streaming kind of eliminates the importance of opening weekend, as well as takes away the value of people making the effort to leave their house and "sit their ass in a seat" to watch a particular film. You can listen to the full interview below:
To explain just how much things have changed in such a short amount of time (although this pandemic may feel like it's gone on for years now), Quentin Tarantino took us back to right before the pandemic, when Once Upon a Time in Hollywood made around $346 million dollars from ticket sales alone. Tarantino has a massive following and his films pretty much always kill, but he goes on to say that even he would not be able to sell that many tickets with the way things are right now. Here's what he said exactly:
As depressing as it may be for Quentin Tarantino to see how the film industry is doing things right now, he hasn't had to sacrifice the theatrical experience with one of his films. He does, however, have one more film to put out until his directorial portfolio is complete. With things at the box office steadily improving, only time will tell if his next and last film will be under the same stresses as current films are.
Constantly thinking about books, coffee, and the existential dread I feel from Bo Burnham's Inside. While writing I'm also raising a chaotic toddler, who may or may not have picked up personality traits from watching one too many episodes of Trailer Park Boys.
Your Daily Blend of Entertainment News
Thank you for signing up to CinemaBlend. You will receive a verification email shortly.
There was a problem. Please refresh the page and try again.