John David Washington Says His Career Really Started After He Accepted The Idea Denzel Washington Would Always Be His Famous Father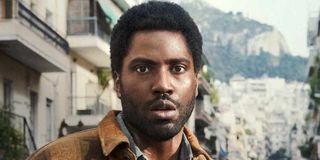 John David Washington had quite the year in 2020, starring in Christopher Nolan's time-bending action movie Tenet and being at the forefront of the clash movie theaters and movie studios during the pandemic. He also starred in Malcolm and Marie alongside Zendaya, in a relationship drama exclusively on Netflix. His new movie Beckett releases on Netflix on August 13, and it looks like quite the thrill ride, reminiscent of a film his father Denzel Washington might make. Being the son of one of the most renowned and successful actors of all time has its challenges and John David Washington is well aware of those. While promoting Beckett, John David Washington has revealed why his career really started after he accepted the idea Denzel Washington would always be his famous father.
John David Washington and the director of Beckett Ferdinando Cito Filomarino sat down with Deadline to discuss the new film ahead of its premiere. John David Washington spoke about what appealed to him about the movie and the challenge it presented. Of course, he couldn't escape talking about his father, Denzel Washington, giving some insight about his career and having such a famous father. John David Washington explained the realization that truly started his career, saying he did use to be concerned about being in his dad's shadow.
John David Washington was a professional football player, playing in the NFL, NFL Europe, and United Football league before fully committing to and pursuing acting. Acting is clearly something he always wanted to do, but he had to overcome the hurdle of having one of the greatest actors ever as a father and the insecurities that gave him. John David Washington has said before he's had to struggle with being Denzel's son and deal with the fact that it's not something he can escape, so he couldn't let it affect his dreams any longer. He implies he played football for longer than he probably wanted to because he was unsure about following his real dream, though he eventually committed fully to what he really wanted to do.
The idea that John David Washington was unsure if he was getting roles because of his father instead of his own hard work was an obstacle he had to get past to start his own career. He says he feels like he has earned his success, and the insecurities he might have felt seem to be in the rearview. Starring in major action movies with visionary directors is probably a sign that you've made a pretty good path for yourself and he shows no signs of slowing down. It also helps that Beckett Ferdinando Cito Filomarino confirms he saw the actor in BlacKkKlansman and that's what helped him land the Netflix role.
Hopefully, we get to see Denzel Washington and John David Washington share the big screen together. Director Christopher Nolan was particularly enthusiastic about the possibility of the father and son duo making a movie together. Maybe it will be a Tenet reunion on Netflix since they are eager to score his next film after Nolan's fallout with Warner Bros.? Only time will tell.
John David Washington has some big shoes to fill, but he's more than likely going to continue to carve out his own path. Beckett will surely be another entertaining showcase for John David Washington, and we cant wait to see it and what else is in store for him in the future. Catch it next month, and see what else is coming with our full Netflix premiere schedule.
Your Daily Blend of Entertainment News
Movie and TV obsessive. A good Heist movie is the way to my heart. Enjoyer of everything from Marvel Movies to Rom-coms.