Fans Celebrated Harry Potter This Weekend On What Would Be His 41st Birthday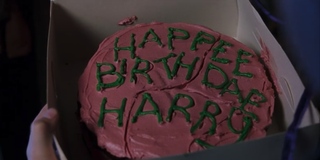 It's not uncommon for fans to recognize big moments and anniversaries related to the musicians, actors, movies or TV shows they love the most. Potterheads, however, have taken their annual celebrations to an elite level. They commemorate the Battle of Hogwarts, shout out their favorite characters on their birthdays and, of course, honor important milestones for The Boy Who Lived. This weekend was no different -- Harry Potter fans took to Twitter to celebrate what would be the beloved protagonist's 41st birthday.
According to J.K. Rowling's timeline, Harry James Potter was born on July 31, 1980. Though technically, the Gryffindor legend was a Gen X-er, his story has inspired millions of Millennials and Gen Z fans around the world. So of course it was only natural for them to flood social media with their birthday festivities.
Fans found a variety of ways to honor Harry Potter's 41st (fictional) trip around the sun. There were fan-made video edits all over Twitter, including this one beautiful glimpse into the highs and lows of the wizard's life:
Some fans showed their creativity in other ways, with fan art and some fun GIFs, including one that showed Albus Dumbledore and Severus Snape partaking in some birthday festivities:
July is also an important month for a handful of other people associated with Harry Potter. Author J.K. Rowling's birthday is also July 31st, which many fans noted in their tweets. July 23rd is the Boy Who Was Harry Potter Daniel Radcliffe's birthday, which didn't pass without fans, and even co-star Tom Felton, showing the actor some love. Since Neville Longbottom's birthday fell on July 30th, it's understandable that a lot of Potterheads were also thinking about the beloved herbology expert:
Of course, no Harry Potter birthday celebration would be complete without a reference to the sweet, though not entirely grammatically correct, cake that Rubeus Hagrid bestowed upon the wizard-to-be in Harry Potter and the Sorcerer's Stone. Several fans made their own versions to honor the day:
And there were plenty of heartfelt sentiments shared from fans all over the world about what the Harry Potter series and the character at the center of it has meant for their lives:
As Harry Potter hits middle age, J.K. Rowling's wizarding world has remained an enduring part of many fans' lives -- and they're still finding new surprises within it every year. Though it's been ten years since the last Harry Potter film was made, the spin-offs -- from the Cursed Child play to Fantastic Beasts - have given the franchise new life. With vague rumblings about potential Harry Potter sequels on the horizon, who knows what else fans will have to celebrate by the time the Boy Who Lived turns the big 5-0?
Your Daily Blend of Entertainment News