Tom Felton Wished Daniel Radcliffe A Happy Birthday And (Of Course) Brought In The Gryffindor/Slytherin Rivalry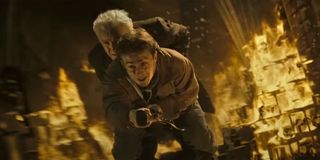 Tom Felton isn't shy about talking about his role as Draco Malfoy in the Harry Potter films, and it seems like he enjoyed his time playing the bad guy with the redemptive thread in the Wizarding World. Felton loves sharing posts to delight the fanbase, including a surprise Harry Potter reunion with his on-screen son and more. The actor also wished his on-screen father a happy birthday, and now he's done the same for Harry Potter himself, Daniel Radcliffe. Tom Felton wished Daniel Radcliffe a Happy Birthday and couldn't help but bring up the Gryffindor/Slytherin rivalry.
Daniel Radcliffe celebrated his 32nd birthday recently, and certainly received many Happy Birthday wishes from Harry Potter fans. Tom Felton joined in on the fun and gave his on-screen foe a great birthday message, and of course, he brought up the Gryffindor rivalry with Slytherin --but in the nicest way possible. Here is the birthday message from Instagram:
Felton sends a cool birthday message to Radcliffe for his birthday, and it's one Harry Potter fans should love. The Gryffindor/Slytherin rivalry is one of the defining aspects of the Harry Potter films. Anytime you see Tom Felton and Daniel Radcliffe, you can think about their multiple on-screen brush-ups and fights throughout a decade of movies. Even once the two former foes got closer on the same page, the Gryffindor/Slytherin debate has waged on, spurred by the fanbase. Yet, for one special day at least, Tom Felton says Gryffindor is greater than Slytherin.
Draco Malfoy's beef with Harry Potter was one of the constant themes of the series and added to the rivalries between the respective Hogwarts houses. Tom Felton and Daniel Radcliffe were great on-screen enemies but are mates in real life, and it's a credit to their acting and the perfect casting that their rivalry was so good on the big screen. There's a good reason Tom Felton feels possessive over his role as Draco because he really became that character and seemed to really enjoy his experience making the Harry Potter films.
Daniel Radcliffe has recently discussed how his reaction to the Harry Potter films has changed over the years and how he still gets embarrassed about his early acting in the series. The series went on for a decade, and Radcliffe and the other young co-stars literally grew up while making it. Looking back after so many years, I'd assume an actor would gain some new perspectives. I mean, seeing your young self is always embarrassing.
There will likely always be more Harry Potter in the world, whether it's the Fantastic Beasts franchise or something else coming down the pipeline. There may be something new coming, and it's fun to imagine how the franchise would look if it adopted Marvel's Movie/TV model. Whatever the future holds, Gryffindor and Slytherin will surely still be at odds.
Your Daily Blend of Entertainment News
Movie and TV obsessive. A good Heist movie is the way to my heart. Enjoyer of everything from Marvel Movies to Rom-coms.