A League Of Their Own: What The Cast Is Up To Now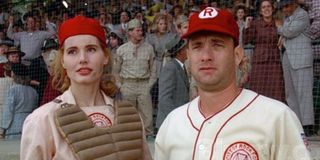 From time to time, a movie comes around and catches lightening in a bottle when it comes to its cast, and there are few movies that are a better example of this than Penny Marshall's 1992 baseball drama A League of Their Own. With a lineup that is led by Geena Davis, just one year after the game-changer that was Thelma and Louise, and Tom Hanks right before his career reached the next level, A League of Their Own's cast had a lot going for it and each member made the most of their time both on and off the baseball field.
It has been nearly 30 years since we first learned of the names of Jimmy Dugan, Dottie Hinson, Kit Keller, Marla Hooch (what a hitter), and the rest of the Rockford Peaches, and you are probably wondering what they've been up to lately. Well, look no further, as we have put together a comprehensive list of the A League of Their Own cast and what they're up to these days…
Tom Hanks (Jimmy Dugan)
Tom Hanks, though already an established star with more than a few successful movies under his belt, became one of the biggest stars of the 1990s in the years following his turn as the Rockford Peaches' alcoholic coach Jimmy Dugan in A League of Their Own. Within three years of the film's release, Hanks would have two Oscars (Philadelphia and Forrest Gump) and become the voice of one of the most groundbreaking animated franchises in Toy Story.
In recent years, Tom Hanks, who hasn't really slowed down all that much, has continued to contribute to the Toy Story franchise while also portraying Mr. Rogers in A Beautiful Day in the Neighborhood, to name only a few films. Hanks will soon appear in Baz Luhrmann's Elvis.
Geena Davis (Dottie Hinson)
Geena Davis' Dottie Hinson was the heart (and oftentimes the brains) behind the Rockford Peaches throughout A League of Their Own, and it's hard to think of a better actress to fill her shoes. Since leaving the diamond, Davis has continued to lead a successful on-screen career which has seen her lead the Stuart Little franchise and even star in her own sitcom, The Geena Davis Show.
In the past few years, the Academy Award winner (The Accidental Tourist), has provided her talents to movies like Ava and television shows like GLOW on Netflix, where she portrayed the wrestling promotion's benefactor, Sandy Devereaux St. Clair, in the third and unfortunately final season.
Lori Petty (Kit Keller)
In the nearly 30 years since providing audiences with one of the best representations of overlooked younger siblings in A League of Their Own's Kit Keller (which was only her fourth film role), Lori Petty has gone on to lead cult classics like Tank Girl and appear in celebrated series like Orange is the New Black, where she portrayed Lolly Whitehill off and on throughout the show's run. Petty has a few projects in the work right now, including a film with the title You're All Gonna Die and a HBO Max original called Station Eleven.
Madonna (Mae Mordabito)
It is hard to imagine a world in which anyone but Madonna played "All the Way" Mae Mordabito in A League of Their Own, and thankfully that's something we'll never have to do. The singer-turned-actress would go on to have her biggest film hit four years later with Evita, which earned her a Golden Globe for Best Actress. And, while her acting career slowed down over the years, Madonna has continued to be an inventive and driving force in the music industry, with her most recent album — Madame X — being released in 2019.
Rosie O'Donnell (Doris Murphy)
Rosie O'Donnell, who made her film debut as Doris Murphy in A League of Their Own, went on to appear in a few of the most beloved movies of the 1990s including Sleepless in Seattle and Tarzan, but the comedian-turned-actress really made her mark in the realm of television. Since getting her daytime talk show, The Rosie O'Donnell Show, she has gone on to host The View and on multiple occasions and appeared in scripted shows like Queer as Folk, The View, Nip/Tuck, and, more recently, SMILF. O'Donnell, who famously came out on television following 9/11, is an outspoken supporter for LGTBQ rights.
Tracy Reiner (Betty Horn)
Tracy Reiner, the daughter of A League of Their Own's director Penny Marshall and Rob Reiner, became one of a few members of the original cast to reprise their roles in the 1993 television program of the same name, portraying Betty "Spaghetti" Horn. Following the movie and show (which only lasted six episodes), Reiner went on to appear in Apollo 13 and That Thing You Do!, later showing up in The Princess Diaries and Valentine's Day (both directed by her uncle Garry Marshall). Since her mother's death in 2018, Reiner has continued Marshall's legacy and contributions to various causes.
Anne Ramsay (Helen Haley)
Anne Ramsay was just coming up in the industry when she joined A League of Their Own's cast in 1992 as Helen Haley, the same year her most famous show, Mad About You, debuted. Over the years, Ramsay has played recurring roles on a number of iconic series like The L Word and Six Feet Under, with one-off appearances on shows like Castle, House, and Animal Kingdom. One of her most prominent roles as of late was in 2019's Bombshell, in which she portrayed former Fox News personality Greta Van Susteren.
Megan Cavanagh (Marla Hooch)
Marla Hooch, who was quite a hitter in A League of Their Own, was portrayed by Megan Cavanagh. In the years since playing the Rockford Peaches' best batter, Cavanagh has gone on to show up on a number of shows including Roseanne, ER, The West Wing, and Drunk History, where she portrayed Penny Marshall in a 2019 episode about the history of baseball. You may also even recognize Cavanagh's voice from the various Jimmy Neutron movies and television programs.
Bitty Schram (Evelyn Gardner)
To some, Bitty Schram will always be Evelyn Gardner, the Rockford Peach on the receiving end of the famous "There's no crying in baseball" line in A League of Their Own, but others will remember her from her performance as Sharona Fleming from the first three seasons of the USA Network mystery-comedy series, Monk. Outside of those two famous roles, Schram has appeared on Felicity, The Ghost Whisperer, and Kitchen Confidential over the years.
Ann Cusack (Shirley Baker)
Ann Cusack (yes, she's the sister of Joan and John Cusack), has come a long way since playing the shy and illiterate Rockford Peach in A League of Their Own, with roles in movies like Gross Pointe Blanke, America's Sweethearts, and Nightcrawler over the years. Where Cusack really shines, however, is in television, where she has appeared on everything from Frasier to Fargo. She has also had prominent roles recently with shows like The Boys, Castle Rock, and Station 19.
Freddie Simpson (Ellen Sue Gotlander)
Freddie Simpson, who played Ellen Sue Gotlander in A League of Their Own, only has a few more acting credits to her name following the 1992 baseball movie. After leaving acting behind, Simpson spent years teaching drama to underprivileged children before moving to Charlottesville, Virginia, where she owns and operates an acupuncture company.
Renée Coleman (Alice Gasper)
Renée Coleman appeared as Alice Gasper in A League of Their Own, but would leave acting behind a few years later and entered the field of Mythological Studies, and specializes in the art of DreamTending. She even published a book on the subject titled Icons of a Dreaming Heart in 2012.
Garry Marshall (Walter Harvey)
Garry Marshall, the acclaimed film and television legend who was also Penny Marshall's older brother, portrayed AAGPBL founder Walter Harvey in A League of Their Own. Already an icon by the time he appeared in his sister's 1992 baseball movie, Marshall went on to appear in countless films, shows, and specials over the years while also writing and directing his fair share of projects. In the years leading up to his death in 2016, Marshall released movies like The Other Sister, Runaway Bride, The Princess Diaries, and its sequel The Princess Diaries 2: Royal Engagement.
David Strathairn (Ira Lowenstein)
David Strathairn, who appears in A League of Their Own as AAGPBL general manager Ira Lowenstein, has gone on to have a remarkable career including a turn as Edward R. Murrow in 2005's Good Night, and Good Luck, which netted him nearly a dozen nominations. Strathairn most recently appeared in the Academy Award-winning drama Nomadland.
Jon Lovitz (Ernie Capadino)
Jon Lovitz only appears in the first few minutes of A League of Their Own, but his portrayal of the physically and mentally exhausted scout known as Ernie Capadino is one of his best performances. Over the years, Lovitz has lent his voice to the underrated animated series The Critic, appeared on The Goldbergs, and has even showed up on A.P. Bio.
Bill Pullman (Bob Hinson)
And then there is Bill Pullman, who shows up as Dottie's G.I. husband, Bob Hinson, in A League of Their Own. Already a star by the time he took on the small yet important role, Pullman went on to appear in everything from a small summer movie called Independence Day, to the 2019 legal drama Dark Waters and oh so much more in between. Pullman generated a ton of buzz in the summer of 2021 when he led Budweiser's amazing commercial.
These are just the major players from the A League of Their Own cast and doesn't even touch on the dreaded Racine Belles. Maybe next season…
Your Daily Blend of Entertainment News
Philip grew up in Louisiana (not New Orleans) before moving to St. Louis after graduating from Louisiana State University-Shreveport. When he's not writing about movies or television, Philip can be found being chased by his three kids, telling his dogs to stop barking at the mailman, or yelling about professional wrestling to his wife. If the stars properly align, he will talk about For Love Of The Game being the best baseball movie of all time.